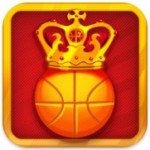 Wanna be a baller? I can't help you there, but you might want to take a look at PikPok's Slam Dunk King [Free] for a bit of inspiration. You might have all the coordination and slick moves of a sloth, but if you've got nimble fingers you're most of the way there. And, honestly? You don't need to care a whit about basketball to love this game.
Slam Dunk King is all about the trick shot. Balls are sent your way, and you've got to dunk them like a pro while racking up some crazy combos. Flick them into the net, flick away bombs, and sneak a few tricks in and you'll be well on your way. There are twelve tricks to learn, from the humble Juggle to the Air Gordon, and each will rack up your points. Tie them all together and you'll fly off the charts.
Once a round is up, your score is taken and run through a series of modifiers. How long did you go without dropping a ball, how big were your combos, how cool were your tricks? All of that is taken into account before you get your final score.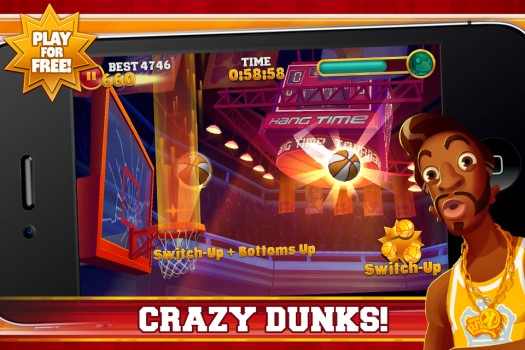 There are three ways to play. Time Attack gives you 90 seconds to earn the biggest score you can. Bombs slow you down, but nothing can stop you but the clock. Arcade mode gives you three balls – drop 'em all or let a bomb hit the net and you're done. You can earn balls back with good performance, though. Finally there's Sudden Death, by far the most punishing. One missed ball will end your game. Arcade and Sudden Death can both be unlocked by earning high scores.
Accompanying you on your quest for Slam Dunk coronation is your choice of mascot. Copernicus the robot comes along for free, and when you score enough points you can trigger him to earn bonus points for hitting bombs. There are five others to unlock, each with its own special ability.
To unlock them, and cosmetic upgrades like new courts and balls, you need crowns. Crowns can be earned by playing well. In Time Attack, performing well opens up overtime, where the balls are traded out for bronze, silver and gold crowns. Each one you dunk gives you a bit more currency to work with. You also earn a ranking that can be leveled up as you play. Not only does it give you crowns each time you level, it also increases your score modifiers.
Now, about the whole "free" things — PikPok has been incredibly generous with this freemium model, and I hope it pays off. You can play the whole game, accessing every bit of content for free, without any limits. The only thing you have to put up with is a banner ad in some menu screens, and you can pay to banish it. You can also pay to get more crowns — you earn them fairly slowly while you play, and there are a lot of tempting cosmetic upgrades to use them on. But nothing is locked behind a paywall.
Slam Dunk King masters the frantic, barely-controlled flicking and swiping that makes games like Fruit Ninja so great. Learning to juggle balls, pull off tricks and defend from bombs is a challenge, but the rewards for improvement are great. This game has the makings of a great leaderboard competition on Game Center and OpenFeint, but it's a lot of fun to challenge your own scores too. And it's free, so you really shouldn't miss it. The ball is in your court, and once its yours, you should swing by our discussion thread and let us know what you think.