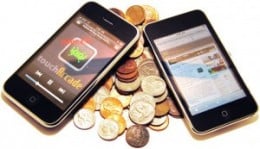 It's Friday, we've got the weekend ahead of us, and next week is Halloween, which I'm sure many of you will be celebrating in some capacity over the next couple of days before going from house to house candy-begging on the actual holiday itself (you're never too old for that, right?).
Anyway, seems like as good a reason as any to have some iOS sales, and it looks like that's exactly what many developers are doing. This list actually goes back a few days trying to catch everything relevant, but just be aware that the prices may not stay this way for long.
These Games Are All Currently FREE:
These Games Are All Currently ON SALE:
BONUS Saturday Additions!:
---
As with any sales in the crazy world of the App Store, these prices are good as of the time of this writing but could change at a moment's notice. If there's something here that's striking your fancy it's usually best to jump on it as soon as possible, before the price jumps back up.
Of course our frequent readers also know that maintaining a wish list through AppShopper.com, the native AppShopper app (Free), or our very own TouchArcade app (Free) are the best ways to be alerted to price drops, updates, and news concerning iOS titles, so make sure you're plugged in to those as well.