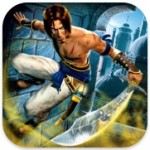 If you're anything like me, the idea of a remake of a game you dearly loved when it was originally released comes as very good news. As much as I adore new games, there's just something about playing something tried and true. Add HD graphics into that mix, and you're really tempting me… which really should have been the case with Prince of Persia Classic [$1.99/HD]. I was hoping to be having so much fun with this game that it'd be hard to put the phone down to write this review, but unfortunately, that was not quite the case.
Prince of Persia Classic is far from all bad. If you played the game in its original form as a downloadable console title a few years back (or heaven forbid, even further back on the Apple II), you'll recall that it had its charming parts… and its annoying ones. Still, there's no denying that some of us spent countless hours navigating the prince through death traps, spiked pits, and all those things that make a game a proper adventure.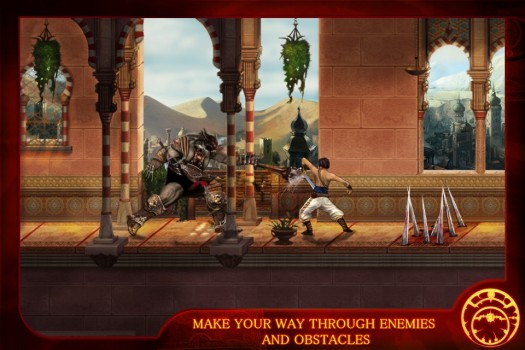 For one thing, the game looks and sounds absolutely gorgeous. Ubisoft has carefully gone through and retooled this for the modern gamer, doing their best to retain the spirit of the original and do it proper justice. I'd say that part works, but once you start playing it, that's where the trouble seems to come in.
As you or may not know, Prince of Persia Classic is a sidescroller which requires lots of running and jumping to keep the prince safe as you navigate your way forward. This would have been great fun if the controls that allow you to do so weren't awkward, but unfortunately they are. They feel a bit stiff and take some getting used to as a whole, which is not ideal when it comes to a game you want to pick up and play. Your movement control is a left to right slide bar, which really could have benefitted from a bit more sensitivity. It's easy to make the prince run when you mean for him to walk, and you'll have to learn to keep tight control of him to not hurl him down a chasm by accident.
If you can get comfy with the controls though, there's a lot more in store for you beyond that. You have Normal, Time Attack and Survival modes to try out (the latter which challenges you to navigate the castle and save the princess in one hour or less), and of course the usual Facebook connectivity. You've also got Game Center included so scoreboards and achievements ought to keep you going for a while.
As it was in its original incarnation, Prince of Persia Classic is also a game that you'll need to play a lot and die in a lot before you get a handle on how to really progress. Checkpoints help to make this reasonable, but I recognized some of that same frustration I felt playing the first one, as well as other retro titles from the same era. You had to be really tenacious to beat some of these titles back in the day. I think old schoolers would keep trying, but some other gamers with less experience might give up. Of course, it's hard to say if that's the fault of the difficulty curve of older games, or how much easier newer ones have become.
The verdict? If you must have it portable, it's not the worst choice But if you just love the game, there are fine versions of it on XBLA and PSN that are simply easier to maneuver. They're a few bucks more, but it might be worth it to you if awkward controls are your idea of a platforming nightmare.