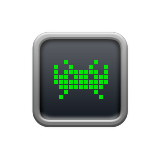 Our ratings for games we reviewed in December are now in place, and we now present to you the ones that are on the top of the heap. Each game reviewed receives a 1-5 star rating relative to the other games from that month. Generally, a three-star or higher is considered a "good" rating.
Our final scores are not the product of any traditionally objective measures such as graphics or sound, but simply reflect the games we would most recommend to others. Keep in mind, this listing is comprised of games we reviewed in December, and not necessarily games that were specifically released in December.
5 Stars
Bejeweled Blitz, Free - [Review] – [Forum Thread] – Popcap takes the glorious match-three mechanic of the classic puzzle franchise, pumps up the volume on the jewel and match bonuses, and then condenses it all down into frantic, one-minute bursts of eye-gasmic, point-laden play.
Sonic CD Classic, Free - [Review] – [Forum Thread] – Here we have the best installment of one of the greatest gaming franchises, which received both flawless review scores and game of the year awards when it was originally released ported with complete perfection to iOS. This is a game you flat out need to buy if you even vaguely consider yourself an iOS gamer. Not only because it's such an impeccable port of an important piece of gaming history, but because we need to vote with our wallets to tell Sega (and anyone else who might be watching) that this is the quality we demand out of retro games brought to the App Store.
Wind-up Knight, Free - [Review] – [Forum Thread] – Picture Super Mario Bros. Got a nice image in your head? Good. Now imagine Mario could never stop moving and would only change direction if he hit a wall. A little tougher. And what if absolutely everything could kill him in one hit, and there was no such thing as a checkpoint? That sounds like the sort of game that would have you cursing, spitting, and contemplating throwing your controller, and it also sounds a lot like Wind-up Knight.
4.5 Stars
Bag It!, $0.99 - [Review] – [Forum Thread] – It's rare to find a puzzle game that feels so fresh but also so obvious. I've never played a game about bagging groceries before, but why not? It should be mandatory training for everyone who moves out on their own, never mind the folks who work at grocers.
Don't Run With A Plasma Sword, Free - [Review] – [Forum Thread] – From presentation to gameplay to overall fun factor, Don't Run With a Plasma Sword simply shines. It's got distinctive character and a great sense of humor. It's also a treat to look at — great design, excellent color.
Zen Pinball, Free - [Review] – [Forum Thread] – Pinball games have been great on iOS devices, and Zen Pinball is one of the best ones we've seen so far. It's totally free to try, and if you like the game engine and the pinball physics (which you will), you can buy additional tables via IAP.
Containment: The Zombie Puzzler, $1.99 - [Review] – [Forum Thread] – Containment: The Zombie Puzzler for the iPad from Bootsnake Games is definitely not your typical match-3 game. In fact, you don't even need to match three of anything. Instead, the goal is to surround zombies with cops, soldiers, scientists or punks.
Grand Theft Auto III, $4.99 - [Review] – [Forum Thread] – Even though GTA 3 wasn't designed for virtual controls, you'll have a great time with it, even if all you do is drive around Liberty City listening to the fantastic in-game radio stations. (My favorite is the talk station.) As you become more accustomed with the splattering of virtual buttons all over the screen, you'll find hours upon hours of content to plow through. Having played GTA3 to completion many times in the past, I'm incredibly happy to be able to take it anywhere with me on my phone of all things.
Bug Princess, $4.99 - [Review] – [Forum Thread] – Aside from a few small quibbles, Bug Princess offers yet another stellar entry in CAVE's series of iOS shooters. It's probably the most straight forward and least complex out of them all, which makes it a great starting point for bullet hell newbies, but it does have its share of depth for those looking to master its strategies.
Snow Fight, Free - [Review] – [Forum Thread] – Snow Fight is a really fresh-feeling real-time strategy game, a fun re-imagining of Capture the Flag that engages you in wintry warfare against scrappy neighborhood kids in a kind of snow battle royale.
---
The rest of the game ratings can be seen in their respective rating categories (also found in the sidebar navigation): 5 Stars, 4.5 Stars, 4 Stars, 3.5 Stars, 3 Stars, and 2 Stars.
As always, we expect there will be some debate about relative scores, but keep in mind that everyone's personal ratings may vary based on individual tastes.
For more of our favorite iOS games, check out our "Best iPhone Games" category which includes all of these monthly posts as well as other special compilations of the greatest games the App Store has to offer: