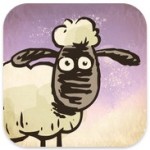 Normally, I would say "another day, another Chillingo physics puzzle game" as the developer pumps out these high quality iOS titles like it's nothing, but then I had to take a moment to stop. After all, Home Sheep Home 2 [$0.99] is not just any puzzler, it's a puzzler starring Shaun the Sheep from the Wallace & Gromit series, and if you have no idea what that is get off this website right now and go find out. It's that good, and I don't throw such idle threats around lightly.
The first Home Sheep Home title came out in May and earned a BAFTA award (see review here). Not too shabby since it started out as a free Flash game. Like the first game, Home Sheep Home 2 challenges the player to take charge of the three sheep Shaun, Timmy and Shirley and make their way through a series of levels. Fans of the original game that felt it needed more levels should be delighted that there are 40 in total to be explored here, so you should get more time out of it this go round.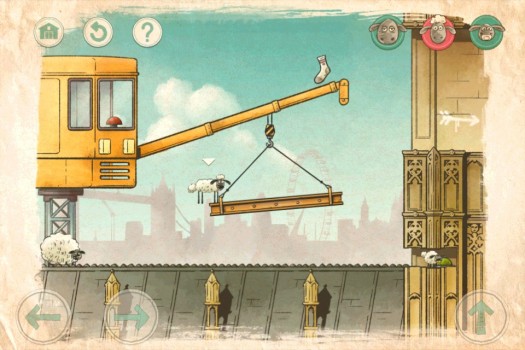 Nothing about the format or controls has changed since the first game: Captivating, simple art with a hand-drawn vibe creates a homey kind of feeling. You control the three sheep and can swap between them with a touch of your finger on each character, or their icons up at the top right corner of the screen. A jump button on the bottom right and the rest of your menu on the top left round it all out, and the placement works well — nothing feels cluttered or in the way.
By figuring out how to get all three of your sheep to the sign at the end, you complete each level. There are collectible items such as socks along the way, which can affect your score, and you'll also have a time and a star ranking at the end. Each level is quick to play in general, but you may find yourself wanting to go back and give it another go to try to improve your scoring.
Of course, the play is physics-based, so expect to be moving boxes and doing other such things to solve puzzles. The sheep can all jump over one another and even stack (although I do not recommend putting Shirley anywhere but the bottom on that one as she's a bit large), and the puzzles are a bit more advanced than what the first game offered.
After you've plowed through all the levels available, you also earn the chance to check out bonus levels which present a bit more challenge. Each separate area has five of these, and I certainly found they took more effort to figure out, although they never reached maddening levels of difficulty.
It looks like many of you really looked forward to this title on the forums, and I can say that it's taken all the concepts from the first game and made them bigger and better, and it doesn't disappoint in its execution. While I did not encounter them personally, it's worth noting that other players did report crashes on the iTunes shop page, but that fixes are already on the way.
Whether you wait for that to pick it up or take your chances, either way, this is a solid buy and one that will keep you smiling at your phone or iPad for hours. And as an extra touch, this is a Universal build — cheers for that!