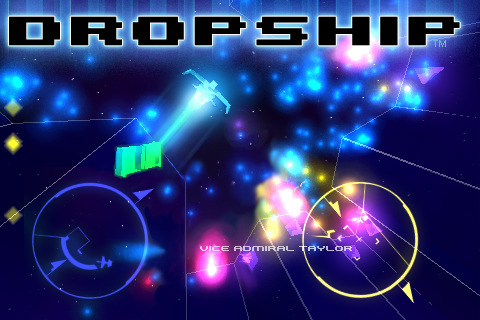 Last night, Ngmoco released their fourth iPhone game called Dropship [App Store]. The game was said to be inspired by both Geometry Wars and Thrust and it shows.
The retro-looking shooter puts you in command of a "Dropship" whose goal is to rescue stranded allies and also recover lost pods. The game is essentially a 2D game but set in a 3D environment. This causes some disorientation when you first play the game, but the end effect is remarkable.
The game succeeds on many levels, but perhaps the most critical piece that they got right were the controls. Your ship is controlled by your left and right thumb which can be placed anywhere on their respective sides of the screen. Left thumb controls thrust and right thumb controls the direction of firing. There is a slight learning curve to this control method, but it ultimately allows very good control of your ship and avoids the major problems that come with a fixed button system (using up screen real estate, and accidentally hitting the wrong button).
The game offers two basic modes of play: Free Play and Campaign.
"Free Play" is a more classic arcade mode in which you play progressively more difficult timed stages in which you must save a certain number of your allies before moving on to the next level. You will have to fight off turrets, tanks and interceptors in the meanwhile. Your ship loses energy as you take on damage, but this can be resupplied by collecting the blue debris left by your destroyed enemies.
"Campaign" mode offers 18 missions in which you must recover a lost pod. You have to descend the level with your Dropship while fending off enemy cannons. Once you find the lost pod, you must pick it up with your tractor beam and fly back to the surface. But the pod can easily become dislodged if you go to fast or hit obstacles, so you have to be a bit cautious.
As an added bonus, extra levels can be downloaded from within the app itself, with three additional levels already available. The mechanics of the game are well balanced which makes this a very fun and highly recommended game easily worth the $1.99 asking price.
This gameplay video shows off both Free Play and Campaign modes (low bandwidth version):
Game Details

Name:

Dropship (v1.00)

Price:

$1.99 [Buy]

Developer:

Ngmoco

Size:

8.7 MB

Device:

Tested on iPhone 3G
Dropship is a retro-styled shooter that draws inspiration from Geometry Wars and Thrust. Great controls, gameplay and sound track come together into what's certainly the best shooter currently available on the iPhone, and may even be one of the best games for the platform.