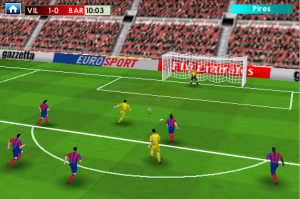 Real Football (Soccer) 2009 [App Store] is the first football (soccer) game to hit the iPhone and it was certainly worth the wait.
For fans of games such as Pro Evolution and FIFA on the Playstation/PC this games feels slightly towards the FIFA end of the spectrum. That said, even for a fan of Pro Evo (this reviewer included), this game will certainly keep you entertained for a long time.
The game offers 3 difficulty settings: Easy, Normal and Hard. These settings cover a decent skill range and provide a challenging but rewarding experience even on the hardest setting. Each step-up in skill may initially seem like a large jump but you can get used it it only after a couple of games.
There are a number of options for managing the team both before the start of a match and during the game itself. You can pick from a squad of twenty one players to form your starting eleven. These players can then be arranged in a formation of your choice either through preset options (standard 4-4-2 or even more exotic options such as 3-6-1) or you can come up with your own unique formation and position for each player.
During the game the players become fatigued as indicated by a bar at the top of the screen. When you notice a player's energy is very low or you need to make a drastic change to your team style, whether you are holding on to a vital 1-0 lead or pushing for an equalizer in the 90th minute, you can make substitutions and formation changes during the game. This is a great little feature for those who really know their players.
The leagues are up to date reflecting the current 2008-2009 season. The teams however are a step behind. For example, Robbie Keane and Dimitar Berbatov are still at Tottenham Hotspur. Hopefully this will be addressed in an update.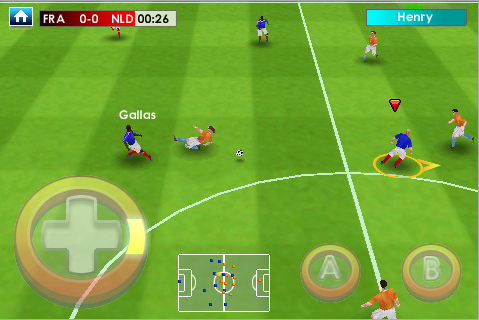 On-screen "A" and "B" buttons and a directional pad are used to control the players. Advanced moves include step overs, flip flaps, and marseille roulettes. With all the controls combined, the game play is quite extensive and allows you to open teams up and score some great goals. Open game play is free flowing and really quite intelligent with off-the-ball AI players making runs into space when you are attacking or moving to fill gaps in the defense. On defense, the auto-select feature also does very well in choosing the correct player, or you can also manually select other players by taping on the screen. All of this adds to the gameplay, giving it a good footballing feel.
If you decide to go sliding into the tackles then it is quite easy to pick up yellow and red cards. Unfortunately, the control for shooting and sliding tackle is the same with the game deciding which to use. This can lead to some unfair sending offs as shown in the video below. During the course of my season there were 3 such instances with a striker going for a 50/50 shot but ending up slide tackling the goal keeper. Still, this is only a minor detraction from the game. When you do get a freekick it is relatively easy to challenge the keeper. Penalties, on the other hand, take some getting used to. The power meter doesn't seem to adjust to the fact that you are taking a penalty so if you go full power it is very difficult to get it anywhere on target. (However, once you get used to the controls you will be as good as the Germans.)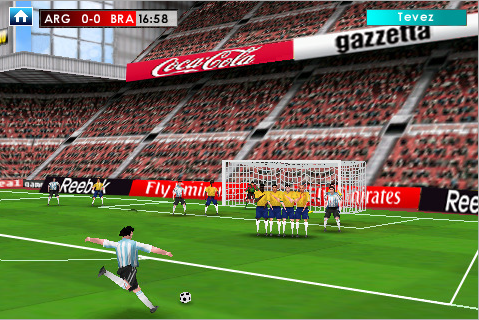 The one place that the game uses the iPhone's built in accelerometer is when taking throw ins. This feels oddly out of place and somewhat unnecessary, however, when demonstrating it to non iPhone owners it does impress.
In all, the controls feel intuitive after a short period of play.
The range of teams and competitions is expansive allowing you to play as teams such as Liverpool FC, Hull City AFC, SS Lazio, São Paulo FC, Rosenborg BK and those in between in competitions all over the globe. The game saves its state in between games so, if you happen to be knocked out of a cup, reloading takes you back to where you were just before your poor performance. However, purists (like this reviewer) will erase this save point and complete in the round robin stages again.
As with many football games there are issues with licenses for player names. This game has a slightly odd mix of official names and slightly veiled names for both players and teams. For example, Ballack plays for Chelsea, however, in the German national team his name changes to Ballaq.
In summary, with its impressive range of teams, controls and options to manage the team, this game is considered a "must have" for any football fans out there.
Game Details

Name:

Real Football 2009 (v1.0.2)
Real Soccer 2009 (U.S.)

Price:

$9.99 [Buy]

Developer:

Gameloft

Size:

69.5 MB

In Brief:

This game is considered a must have for any football fans out there with an impressive range of teams, controls and options to manage the team. The graphics are good and the gameplay makes for a very entertaining game with great longevity.
This article was written by Rich Moore, a guest contributor.