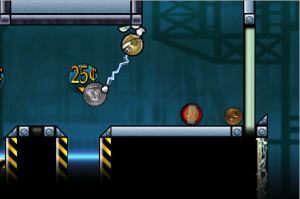 In early August, mobile gaming company IUGO released some interesting screenshots of their upcoming game called Toy Bot Diaries. Like many other companies, they claimed to understand the iPhone and promised that they had utilized its accelerometer and touch controls in a "very natural way."
After playing Toy Bot Diaries [$3.99, App Store] tonight, I think IUGO was right about their controls and, in doing so, they have succeeded in creating one of the first true iPhone games.
iPhone gaming controls is a topic that I keep coming back to (Ms. Pac-Man, Digga) because it's frequently a major issue when gaming on the iPhone. With many games, you find yourself acutely aware that you are playing on an iPhone. This is because the tilt control or the touch control didn't respond in the manner you've come to expect. With Toy Bot Diaries, IUGO has created a natural control system that blends in and stays out of your way.
I don't mean to single out the control system as anything extraordinary by itself. It's not. In the end, the strength of the game is its natural control system on top of a very well executed physics platform puzzle game. In fact, I forgot I was playing "an iPhone game" and instead was simply immersed in a great game.
The premise of the game is a bit unclear, though, it appears that is by design:
Tiny Toy Bot has awakened within a strange machine and now he needs your help! Use Toy Bot's handy grappling hook and magnet boots to navigate him through environments teeming with physics-based challenges as he plunges into an unfamiliar world. Search for Toy Bot's lost datapads to recover his memory and guide him on his top secret mission.
The lack of instruction or background can be a bit disorienting, but the game gets you up to speed very quickly (see video).
Tilt controls move Toy Bot forward and backward, while touch controls trigger your grappling hook and magnet boots. You'll find yourself tackling some clever obstacles as you negotiate through the stages. While you can make your way through a stage without collecting all the datapads, trying to get gather them all is also part of the challenge.
IUGO has decided to take a unique approach and release this game in a series of episodes. This is episode 1 ("Entry 1"). I suspect this will result in shorter but cheaper games. Toy Bot Diaries appears to have four stages (comprised of many sections) and is priced at $3.99.
While I haven't completed all the stages during my brief time with the game, I already feel $3.99 is a very fair price for this polished and immersive game.
Game Details

Name:

Toy Bot Diaries (v1.0)

Price:

3.99 [Buy]

Developer:

IUGO

Size:

11.5MB

In Brief:

Toy Bot Diaries is an original and immersive physics platform game that we highly recommended. This is the first in a series of game episodes and introduces you to the Toy Bot character as you try to piece together its memory.