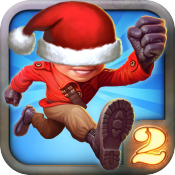 The coolest thing about strategy games is that they can come in all sorts of different shapes and sizes. Some are contemplative, lean back style experiences. Others are fast and reflex-y. Some strategy games do a little bit of everything as far as pacing goes. We see a nice mix across the board on the App Store.
In 2012, we saw a lot of killer strategy games across iPhone and iPad. Some of the best didn't just toe genre lines — they steamrolled them. Fieldrunners 2, for example, is more than just a competent tower defense game. It's a product of a studio that has a mastery of the art and it used its vast knowledge to inform some of the tightest, most well-balanced action we've ever seen in a TD game.
Our top strategy games of the year celebrates the titles we've seen that do a little more than the rest of their competition. Each has a unique hook or a quality that other similar games don't have.
Fieldrunners 2, $2.99 – [Review] – [Forum Thread] – [TA Plays] – Fieldrunners 2 is the ultimate iterative game. It improves upon the original in a lot of smart ways. The action is crisper and more challenging. The look is more polished, much more refined. And the new world map and turret constructs feel perfectly paired with the tower defense action, which, again, is remarkably good. You can't go wrong with this.
The Walking Dead: Assault, $2.99 – [Forum Thread] – [ TA Plays ] – Walking Dead: Assault takes the 3D, turn-based strategy action game model to the next level by dropping the over-used arena model and, instead, using compelling scenarios that have you escorting, scavenging, and eliminating things in the Walking Dead universe. Great use of color, solid touch controls, and neat hooks push this over.
Plague Inc., $0.99 – [Review] – [Forum Thread] – This game has blown up in a way we didn't think it could, but the attention is deserved. Plague Inc. is all about creating a plague that can wipe out the entire planet. Your job is to GM the plague — to make it stronger, faster, and deadlier as it travels the globe and scientists scramble to cure it. It's a fascinating game with deep systems with a lot of neat perks that you unlock as you play.
Outwitters, Free – [Review] – [Forum Thread] – While looking dangerously simple on the surface, Outwitters is one of the most tactical online asynchronous strategy games around. Every move requires careful thought and foresight, and one wrong move can allow your opponent to bury you. Outwitters also does a good job at realizing it's a game designed for mobile, with a clean interface and relatively small maps which make for quick games while on the go.
Bad Hotel, $1.99 – [Review] – [Forum Thread] – With a strong look and killer sound, Bad Hotel leaves a powerful first impression. The action is what'll hook you, though. This is a tower defense game where you defend your towers as you frantically build turrets to fend off suicidal birds. Neat grid mechanics keep the action simple enough, but smart scenario design keeps you on your toes.
Hero Academy, Free – [Review] – [Forum Thread] – Hero Academy takes the whole "one more turn" thing to the next level. It's a brilliant, 2D strategy game perfectly catered for people who love asynchronous games. The balance between the teams is phenomenal considering the scale of the task, and the strategy is wildly diverse.
Hunters 2, $1.99 – [Review] – [Forum Thread] – Hunters 2 is everything the original Hunters was, except bigger, badder, and longer. The game's campaign weaves in a good story on top of the turn-based action, while the mobile feature set — like buying weapons in a real-time market — keep you coming back for more and more.
Monster Wars, $0.99 – [Review] – [Forum Thread] – Liv Games took all the genre-blending of their previous hit Legendary Wars and flipped it around to let you play through the same universe from the bad guys' perspective. I love when games do that. Monster Wars offered up an incredible amount of content and a variety of different gameplay styles, all wrapped up in a cohesive art style that tied together very nicely with Legendary Wars' story and universe.
Brainsss, $0.99 – [Review] – [Forum Thread] – What could have been just another zombie game ended up being one of the fresher takes on a top-down strategy title. Lead a group of zombies around in search of helpless survivors to turn into the undead and add to your numbers. As your zombie horde grows, strategically split them off into smaller groups to search out even more victims.