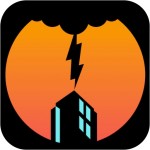 Lucky Frame's music/tower defense hybrid Bad Hotel ($1.99) is the best kind of weird there is, the kind that makes you wonder exactly what the developers were thinking and if there's anything you can do to encourage them to keep going down that Rabbit Hole. More attuned towards its tower defense roots than its musical background, Bad Hotel will have you doing what few tower defense games have ever attempted to do before: defend towers.
Sort of. In theory, you only really need to protect the little hotel you're given at the beginning of every stage from the evil machinations of the game's antagonist Tarnation Tadstock. If that falls, you're going to have to restart the round. However, in order to defend that precious spot of real estate, you're going to cultivate a nice little collection of healing rooms, turrets, money-generating quarters and more.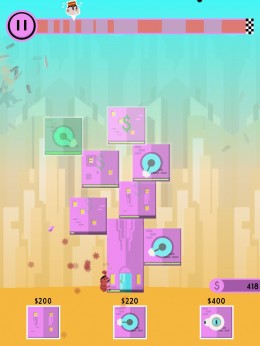 At times, a war of attrition (you will, at some point of your career, sacrifice a block or three to a bevy of suicidal swimmers. Sometimes, the ends justify the means.), Bad Hotel is not, contrary to its sweet exterior, a particularly easy game. (There's one level where you have to fend off encroaching attackers with nothing but healing rooms and money-making blocks.)
It is, however, amazingly winsome experience. The visuals are stylish, the colors bold but not overwhelming – Bad Hotel would make a trendy-looking cartoon. However, it's the music that brings it all home. If you've played any of Lucky Frame's previous titles before, you already know they've got a thing for procedurally generated tunes and slick, strange sounds.
You'll see that knack for building impromptu soundtracks manifest itself again here. Each room you build generates a different note, a different layer to the melody. While it can occasionally turn into a discordant mess, Bad Hotel will still surprise you (in a good way!) with its sound scape frequently enough with its audio.
Gameplay-wise, Bad Hotel is pretty much 'pick up and play'. To build a tower, you simply need to drag it from the menu at the bottom of a screen and release it. That's it. The rest is entirely up to you and your ability to strategize. There is only one problem to this control scheme.
If you're playing on a tiny iPhone screen, chances are the landing won't be perfect – it's hard to be a hundred percent accurate when you can't see under your finger. Fortunately, that won't hamper gameplay too much. The architecture here doesn't really follow the laws of conventional physics. (Fair warning: rooms do need a base of operation, so to speak. While you can stack them up in the weirdest way possible, the whole thing will come crumbling down if the one at the bottom is destroyed.)
Long story short? Play the game. If you enjoy weird, wonderful things or have ever wondered what it'd be like if Pug Luv Beats ($0.99) had been more of a game than a musical toy, you seriously need to check out Bad Hotel.