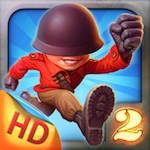 Earlier this morning, Eli and I spent some time with Fieldrunners 2 HD, the iPad version of Fieldrunners 2. In a nutshell, it's a bigger, sharper version of the game, as it supports new iPad resolution. It also rocks a few new features, including five new towers, iCloud support, and over an hour of developer commentary.
It's weird, but maybe the coolest thing about this version is just the fact that it's on a tablet. Regular Fieldrunners 2 scenarios can run pretty long, which can be a bummer because sometimes you don't want to spend 20 minutes on your phone. But on a tablet? That's almost a perfect amount of time for a great, lean-back experience.
Hopefully, you'll notice the work on the game's assets in our video. They're gorgeously detailed and realized, adding to the overall polish of an already awesome tower defense title.
Fieldrunners 2 HD will be available on iPad later tonight, as releases worm their way across the globe. Look for it.