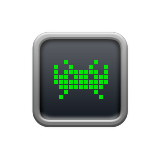 Our ratings for games we reviewed in November are now in place, and we now present to you the ones that are on the top of the heap. Each game reviewed receives a 1-5 star rating relative to the other games from that month. Generally, a three-star or higher is considered a "good" rating.
Our final scores are not the product of any traditionally objective measures such as graphics or sound, but simply reflect the games we would most recommend to others. Keep in mind, this listing is comprised of games we reviewed in November, and not necessarily games that were specifically released in November.
5 Stars
Infinity Blade II, $6.99 - [Review] – [Forum Thread] – We put incredibly powerful devices in our pockets and on our laps daily, but rarely do we see games that utterly embrace this like Infinity Blade 2 has. It's a showcase piece; a technically and visually gifted game that consistently delivers eye-popping stuff. The gameplay is great, too.
Zombieville USA 2, $0.99 - [Review] – [Forum Thread] – Tightly-constructed, well-executed, charming, different and entertaining are all words we freely use when describing Zombieville 2. It's a near perfect iterative entry to the franchise, as it artfully hones in on and turns up the volume on the two best parts of the original: the shooting and upgrade models.
4.5 Stars
Rebuild, $2.99 - [Review] – [Forum Thread] – Rebuild can ruin a life like only a Civilization can. Don't mistake us; that's huge praise for Northway Games's atmospheric and engaging strategy game, which has you building and managing a city while zombies bump in the day or night. iPad 2 exclusive — for now, at least.
Saving Yello, $0.99 - [Review] – [Forum Thread] – Tactile Entertainment's Saving Yello and is a hip, fresh, and adorable physics-based puzzler about a pet goldfish named 'Yello'. Tons of well-designed levels and environments, as well as wonderful production values make this a stand-out.
Space Tripper, $3.99 - [Review] – [Forum Thread] – After being released on various other platforms over the past decade, it's finally our turn for an iOS port of this top-down arena-based shoot'em-up, which features a main campaign plus score attack and challenge modes to unlock. And heads up: it was worth the wait.
SpellTower Classic, $2.99 - [Review] – [Forum Thread] – Word games can still be fun. Elegant, clever and fun, SpellTower a complete package, brought together by Gage's trademark use of cheerful colors, simple patterns and elegant typography.
RAVENMARK: Scourge of Estellion, $9.99 - [Review] – [Forum Thread] – Delivered in a visual novel-esque manner, this strategy game's greatest strength lies in the fact it is not pretentious. The protagonists are not larger-than-life heroes; they're men. And you'll care, maybe just as the developers seemed to judging by the outrageously solid presentation and overall direction.
Aquaria, $4.99 - [Review] – [Forum Thread] – Imagine if a Metroidvania went underwater. That's what Aquaria is in a nutshell, but you've got to appreciate its fine touches and vision even if its formula doesn't jive with you.
Chocohero, $0.99 - [Review] – [Forum Thread] – Chocohero is certainly not the only "falling platformer" out there, but it's definitely one of the best designed. In addition to tight controls and well-designed levels, the art style and music are perfectly complementary. Also, it's super-adorable).
Junk Jack Retro, $0.99 - [Review] – [Forum Thread] – While there are any number of blatant Minecraft knockoffs on the App Store, Junk Jack distinguishes itself in nearly every category. It's fun, bright, and pretty mind-numbingly awesome.
Elder Sign: Omens for iPhone, $0.99 - [Review] – [Forum Thread] – Elder Sign is a board game crossover that takes the Lovecraftian horror of Arkham Horror and distills it down to about half the time and only 200 pieces or so. More importantly, it works brilliantly on a touch screen.
Oh! Edo Towns, $4.99 - [Review] – [Forum Thread] – If you're fond of Kairosoft's other, much more grand strategy simulation games, you'll probably dig this one. It's basically old-school SimCity, but re-envisioned with Kairosoft's signature cutesy art, formula, direction and style.
Greed Corp HD, $0.99 - [Review] – [Forum Thread] – This is a strategy board game that feels right at home on iPad, and it outdoes much of its competition on the platform. We wouldn't get it solely for online multiplayer, but with a vast single-player campaign and support for up to four local players, it's a gem of a game for any other purpose.
---
The rest of the game ratings can be seen in their respective rating categories (also found in the sidebar navigation): 5 Stars, 4.5 Stars, 4 Stars, 3.5 Stars, 3 Stars, and 2 Stars.
As always, we expect there will be some debate about relative scores, but keep in mind that everyone's personal ratings may vary based on individual tastes.
For more of our favorite iOS games, check out our "Best iPhone Games" category which includes all of these monthly posts as well as other special compilations of the greatest games the App Store has to offer: