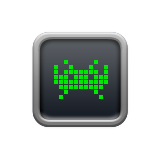 Our ratings for games we reviewed July are now in place, and we now present to you the ones that are on the top of the heap. Each game reviewed receives a 1-5 star rating relative to the other games from that month. Generally, a 3 or higher is considered a "good" rating.
Our final scores are not the product of any traditionally objective measures such as graphics or sound, but simply reflect the games we would most recommend to others.
5 Stars
Gesundheit!, $1.99 - [Review] – [Forum Thread] – This stealth-centric sneeze-powered puzzle game comes with fantastic controls, some of the best hand-drawn art we've seen in action on the App Store, and details like shadows moving relative to your iOS device's gyroscope readings. We prefer the iPad version, but only because you'll want as much screen real estate as possible to enjoy this game's incredible art.
Groove Coaster, $2.99 - [Review] – [Forum Thread] – There have been a ton of rhythm games released on the App Store, but none have the amazing presentation of Groove Coaster that almost makes it less of a game and more of an experience– And this is one experience you really can't miss especially if you enjoyed its creator's other game, Space Invaders Infinity Gene.
Wooords - GameClub, Free - [Review] – [Forum Thread] – Games where you search for words within a pre-defined set of letters have some serious roots, heck, this kind of puzzle was published in newspapers before video games even existed, and there's a zillion variations on the App Store. Words totally impressed us with its slick presentation that feels less like playing a word game and more like moving magnetic letters around on a refrigerator.
THE KING OF FIGHTERS-i-, $2.99 - [Review] – [Forum Thread] – Back in the day of the arcade fighter arms wars, it was Street Fighter versus The King of Fighters with as fierce of a rivalry among gamers as arguing Nintendo vs. Sega. KoF has arrived on the App Store, and it's every bit as good as its Street Fighter, although it remains to be seen if they'll match the online play found in Volt.
4.5 Stars
Squirmee REDUX, Free - [Review] – [Forum Thread] – This game takes the tried and true single-screen puzzle action game formula that's been such a hit on the App Store and applies a healthy coating of difficulty to it. In our review, we describe it as "Super Meat Boy flipped on its head, and that description fits incredibly well as the game focuses on controlling the environment instead of your character. A level skip button comes in handy as some of the levels included are hard.
Magnetic Billiards: Blueprint, Free - [Review] – [Forum Thread] – This game combines vague elements of billiards and match three in a crazy way that is incredibly fun. The initial download is free, and comes with enough content to keep you busy for quite a while. After that, a number of great IAP options exist to unlock additional game modes and levels. By the time you're even hit with unlocking anything with real cash, you'll know for sure that you love the game.
Sid Meier's Pirates! for iPad, $4.99 - [Review] – [Forum Thread] – This pirate sim is a game with a ton of history behind it, and 2K Games did a marvelous job of porting it to the iPad. It has depth on top of depth, and will keep you busy for quite some time if it manages to suck you in. We've got our fingers crossed for more ports like this of incredible games that work phenomenally on the iPad.
DEATHSMILES, $5.99 - [Review] – [Forum Thread] – CAVE does it again with the fast-paced shooter formula that they're known so well for. Like all their games, it follows a fairly standard shmup format with many elements you can comfortably ignore– However, if you embrace the scoring system and the things required for scoring big, you'll be rewarded with a flat our exhilarating experience.
Pocket RPG: Epic Adventure, Free - [Review] – [Forum Thread] – Crescent Moon Games' latest is this awesome iPad-exclusive spin on entirely randomized Roguelike gameplay mixed with the action-packed style of a dual stick shooter. It's a combination that works incredibly well, and being entirely randomized, is infinitely replayable. …Now, if only there was a version that was truly pocket sized for my iPhone.
Special Mention
Classic Marathon, Free - [Review] – [Forum Thread] – iOS devices are quickly turning into the most amazing retro gaming platform imaginable. This month, Marathon joined the ranks of other classic first person shooters already available, and is free to download, unless you want to spring for an entirely optional high-res graphics pack. If you're a Halo fan and have never played Marathon, you really should. It's crazy seeing how many nods there are to what would become Bungie's blockbuster FPS franchise.
Deadlock: Online, Free - [Release Announcement] – [Forum Thread] – It's a little difficult to review free to play online-centric games like this because so much of what makes them great is long-term support from the developer as well as how healthy the player community is. Regardless, we've been having a ton of fun with Deadlock and think that the online multiplayer based dual stick shooter formula with a host of upgrades that you can either buy or slowly unlock is a winner.
---
The rest of the game ratings can be seen in their respective rating categories (also found in the sidebar navigation): 5 Stars, 4.5 Stars, 4 Stars, 3.5 Stars, 3 Stars, and 2 Stars.
As always, we expect there will be some debate about relative scores, but keep in mind that everyone's personal ratings may vary based on individual tastes.