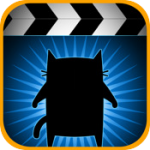 It seems like the quality of trivia games on the App Store varies wildly from ports of time-tested classics like Trivial Pursuit [$2.99] to Justin Bieber Quizzle [99¢] and and other celebrity or TV show specific quiz games. MovieCat! [$2.99] is a breath of fresh air in that it not only seems to be a comprehensive movie trivia game, but it also features cats. Lots and lots of cats.
MovieCat! is created by the movie trivia hive mind that is FilmWise.com who are also responsible for the Invisibles series of puzzles, as well as trivia found in various magazines and newspapers around the world. The game begins by asking you for your name, and selecting a difficulty ranging from easy to hard. This controls how many cat lives (of which you have 9) you can lose on any given puzzle. From there, the first of five rounds begins.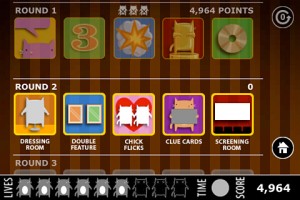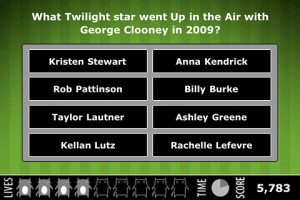 Each round consists of five trivia challenges. These range from questions where you need to guess the movie based on the title of the chapters on its DVD, guess a movie based on some dialog, guess movies that won awards, matching actors to movies, and others. The text-based questions seem fairly comprehensive, but what really makes MovieCat! shine is the trivia challenges that involve guessing a movie based on costumes, movie posters, or even an image from a movie… which are all drawn using cats.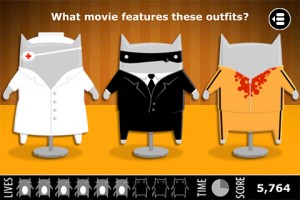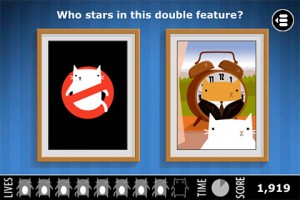 My main concern with so many of these trivia games is just how long you can play before you start running in to duplicate questions, but I've clocked several hours in to MovieCat! and have only been served a few questions that I've seen before. Also, there's an in-game store for future question packs, and currently there's a single pack available for 99¢. Hopefully the developers will keep additional content packs coming in the future.
If you consider yourself a movie buff at all, you'll have a blast with MovieCat!. There's even online scoring with two separate leaderboards for highest recent and all-time scores and unlockable cat scenes which feature cats drawn in famous scenes from movies to keep you playing. I've been having a ton of fun with the game, and highly recommend it to anyone who enjoys movie trivia.