While our iPhone game of the year took tons of deliberation, the iPad game was far more clear cut. Since the device's release, we've yet to really see much in the way of killer iPad-exclusive content. Most developers instead have somewhat understandably have chosen to use the iPhone and iPod touch as their target platforms, then either eventually release a universal update or a completely separate "HD" version of the game. 2D Boy really knocked it out of the park in releasing an iPad-exclusive version of their hit indie PC/Mac/Wii game World of Goo [$9.99]
We really couldn't say enough good things about it in our review, as adding a multitouch interface to the game enhanced overall gameplay more than I could ever have imagined. On the PC/Mac, you built up huge towers of goo balls utilizing the mouse pointer, which seems to be impossible to go back to after being able to hold a single goo ball with each finger while panning the camera around with the other hand.
If you own an iPad, this is a game you need to have. If you've played World of Goo on another platform, it's still worth playing through again just because of how much better of an experience it is on the iPad.
Runner Up: Plants vs. Zombies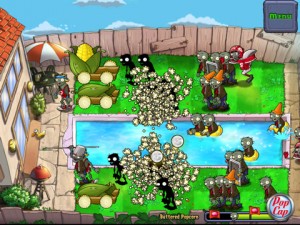 We had a great time with Popcap's Plants vs. Zombies [$2.99] for the iPhone, but we thought the game was substantially better when played on the iPad with Plants vs. Zombies HD [$6.99]. Very similar to World of Goo, we enjoyed Plants vs. Zombies a ton playing on our computers, but with the multitouch screen of the iPad, the game turns in to something else entirely.
Plants vs. Zombies is an incredibly casual tower defense game that's easy enough for people who have never played a tower defense style game to get in to with any more explanation than the tutorial offers, yet deep enough for even hardcore players to get in to. Progressing further in to the game unlocks additional seeds to use to plant your defenses, and the seeds you choose offer a surprising amount of variation to the game and it's balanced well enough that you can generally focus on using the seeds you like instead of using the seeds that are the "best".
This is a game that everyone with an iPad needs to own, and it's available on so many platforms, if you haven't yet you really need to try Plants vs. Zombies on something.