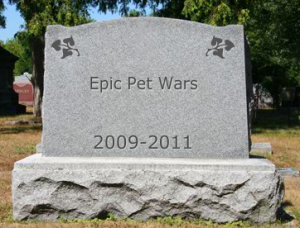 Here's a question we don't consider enough: what happens when a studio pulls the plug on its micro-transaction fueled games? The answer is obvious and a bit unsettling. You don't get to play anymore, and all those ad impressions you handed out, all of those extra games you downloaded in exchange for precious in-game coin, and all the real money you spent just disappears into the ether.
Unfortunately, we bring up this subject as a result of a recent ngmoco decision. The studio has announced plans to "shut down" Epic Pet Wars [Free], Epic Chef Wars [Free], Epic Crime Wars [Free], and Titan Wars [Free] on Jan. 16, 2011. After this date, these games will "no longer be playable."
Epic Pet Wars was one of ngmoco's first major acquisitions as part of a larger acquisition of developer Miraphonic in 2009. At the time, ngmoco's Plus+ platform was a fledgling one and the studio presumably wanted to flesh out its offerings utilizing Miraphonic's comparatively massive player base. Now it has dozens of Plus+ games, most of which support in-game purchases, and many which enjoyed boosts on the top download charts thanks to in-game offers from Wars games.
Games with expiration dates are a new-ish concept, though we should realistically expect all our cloud-based, online-focused romps to come to an end at some point. Business is cold and hard and if the numbers don't line up? Well, this is what happens, though I can't imagine anyone, especially the fans of these latest casualties, can be happy about it.
UPDATE: ngmoco has issued the following response:
"Withdrawing support for our games is not something we do lightly. The Epic games made a lot of people happy and will always have a special place in our hearts. We work hard maintaining and growing communities on our other games and will continue to do so. But, when the flow of players becomes low for a prolonged period we have to take these decisions so we can dedicate time to making new experiences. The harsh reality on our Epic series of games is that towards the end they did not have the level of engagement required to continue competing for users' time in an App Store that's giving players new choices daily.

We are thrilled to confirm that the creative team at Miraphonic is currently working on a new, top secret project that they have been busy creating from the ground up and we look forward to releasing news on this exciting project very soon."