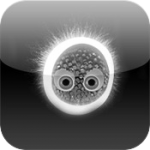 Escalation Studios have been the men behind the curtains of two great iPhone games, Dr. Awesome [99¢ / Free] published by ngmoco as well as Doom Resurrection [$1.99] published by id Software. Today they released Splode [99¢] on the App Store as the first game published under the Escalation Studios name. Splode has gameplay very similar to other chain reaction games like Sneezies [99¢ / Free / HD] in that you tap on the screen to start a reaction, and that reaction (if initiated properly) can clear the entire screen.
Like Sneezies, Splode has both a challenge mode where you try to clear a set number of splodes in one tap, and score attack mode where you can tap multiple times to see how many splodes you can explode. What sets Splode apart from similar games is the crazy amount of additional flourishes in the game, both in the musical and graphical departments.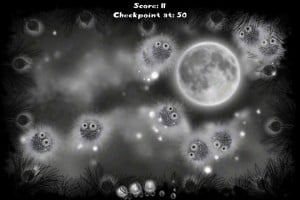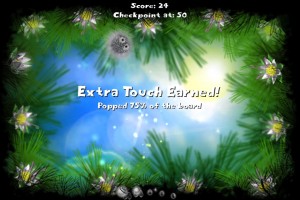 The music begins almost spooky sounding with the game entirely in black and white. As your chain reaction involves more splodes, a series of flower buds that frame the screen open, and the scene slowly turns from night time and black and white to daytime and colorful. It's really a cool experience, and vaguely reminds me of the transition to color in The Wizard of Oz.
Splodes is launching at 99¢, is universal, and even has high resolution graphics for the Retina Display of the iPhone 4. One thing that is sorely lacking in Splodes is online leaderboards, something that I feel is almost mandatory for any high scoring game, and achievements would be awesome too. Even though the gameplay isn't that original, the experience of the music, ascending chords as the splodes explode, and the color changing mechanic is totally worth checking out if you enjoy simple but beautiful games.