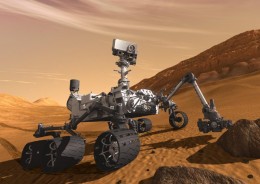 Like many science and technology enthusiasts (read: nerds), I was glued to NASA's live feed of the Mars Curiosity Rover landing last night. In fact, I was completely blown away at how crisp and clear the feed was from the special channel it was on on Xbox Live. That in itself seemed like an incredible technological feat. But whether you watched the live web stream, on your Xbox, or wherever, it was an incredibly exciting and humbling moment when we found out we had successfully shot a piece of equipment hundreds of millions of miles through space and landed it on Mars.
The landing was just the beginning though, and now I look forward to NASA exploring this planet with their shiny new high tech rover. If you're like me and are all in the space mood after last night's landing, here's a selection of space-themed titles to play on your own piece of high tech equipment: your iOS device. In many cases these are also on sale to celebrate Curiosity's landing.
---
Waking Mars, $4.99 – [Review] – [Forum Thread] – An obvious choice to celebrate the US landing on Mars is a game that's exactly about that. Waking Mars has you exploring the inner-depths of the red planet, and growing and harvesting strange plant life in a puzzle-like fashion in order to progress. It's not just a fun and clever puzzle platforming game, but its mood and atmosphere practically transports you to the dusty red surface of Mars and below.
---
Astronaut Spacewalk, $1.99 – [TA Plays] – [Forum Thread] – If you want to get an idea of just how complicated space missions can be, give this a try. Astronaut Spacewalk is a painfully hardcore simulation of what it's like to be an astronaut completing several types of docking and retrieving missions. Spoiler Alert: it's freaking hard (just watch Eli and Brad make spacefools of themselves in the video above). And if it's that hard to do well in a video game, then you know it's even harder in real life, meaning you have no option but to give props to the NASA teams that do stuff like this for a living.
---
Mars Lander, $0.99 – Here's the most literally-named game that we have on our list to celebrate Curiosity. In Mars Lander, you must also land your spacecraft safely on Mars. You accomplish this in the typical fashion of controlling your thrust properly so as to land yourself as gently as possible on the designated landing pad. Tilting your device allows you to travel around the level and collect stars while avoiding obstacles. Pretty standard stuff, and in my short time with the game the landing detection seems a bit temperamental, but Mars Lander has a great spacey soundtrack and a map editor and hey, it's free.
---
Gravity Lander PRO, Free – [Forum Thread] – Similar to Mars Lander in that you're trying to land your spacecraft on designated platforms in vertical levels, but in Gravity Lander Pro you don't have to be quite as careful. You just need to be, well, lucky, most of the time. Your rocket begins atop a tower of precariously piled junk, and you must tap to delete objects in a way that allows your rocket to fall to the ground and land upright. Lots of times this can be accomplished just by wildly tapping away, but something about it is still fun. If you find you can't get enough of Gravity Lander Pro, the original Gravity Lander (Free) is free too (video above) and offers a ton of additional levels.
---
No, Human, $2.99 – [Review] – [Forum Thread] – Ok, so this is a bit of an anti-space exploration game, but it's so darn good we had to include it here. No, Human is the story of humans excitedly proclaiming "we're going to explore the farthest reaches of space!" and the universe responding with "yeah, we'll see about that." It turns out the universe doesn't want to be explored, and as the player you're going to help the universe out by flicking meteors at those pesky humans' fancy space equipment. That'll learn 'em not to explore space! The silly premise leads way to what is a fantastic physics puzzler, which was a bit short upon initial release but was expanded greatly in a later update.
---
X-Plane for iPad, $9.99 – [TA Plays] – Laminar Research's X-Plane series of games have long since been great hardcore flight simulators on desktop machines as well as a wide variety of titles on the iOS platform. Yeah, most of them deal strictly with flight within Earth's own atmosphere, but if you're as skilled as Eli and Brad then you can take advantage of the option to land a shuttle coming in from outer space (let's hope for the safety of our astronauts and our NASA space programs that Eli is never actually in a position to have to land a space shuttle. It will not end well).
---
Space is Key, $0.99 – [Review] – [Forum Thread] – Ok, we're kind of stretching things here, but really the only relevant part to Space Is Key in connection to the whole Mars Curiosity thing is that it has "space" in its name. Welp. It's all good though, because Space Is Key is actually a really awesome game and this is the first time it's ever been free. It's a port of a popular Flash game where you must complete bite-sized platforming levels in rapid succession. Your little block guy (or gal?) runs on its own and it takes precision timing to tap the screen and jump to avoid all obstacles and move on to the next level.
---
The Last Rocket, $1.99 – [Review] – [Forum Thread] – Whoops! In our haste to drum up some space-themed games for this post, one game accidentally slipped our minds: The Last Rocket. It's a simply fantastic puzzle platforming game with a retro style and really well-designed levels. It also uses swipe mechanics in an incredibly intuitive way. Honestly, the pixel art visuals and fantastic chiptune soundtrack are worth the price alone, but that The Last Rocket has such fantastic gameplay as well pushes it to another level. Also be sure to keep tabs on developer Shaun Inman's upcoming semi-sequel Flip's Escape.