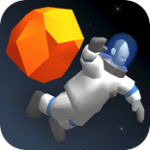 First time iPhone developer vol-2 just released their inaugural game on the App Store this afternoon. No, Human [$1.99] is a physics-based puzzle game set in space which begins with an amusing conversation between the humans proclaiming they will conquer the universe and the universe simply responding "Oh really?" From there, you're walked through a brief tutorial which explains that in order to rid space of humans, you must flick fireballs at various satellites, space stations, and/or rockets to clear each level.
50 levels are included, and as you progress through the basic levels you eventually come across targets that have shields which must be hit twice to destroy. Further on, you come across asteroids in space with their own gravitational push or pull that must be intelligently used to arc or repel fireballs along with others that have to be ignited by existing flaming fireballs before they can be flicked. Gameplay is basic and fairly linear with most levels only having one viable solution. Also, playing through all 50 levels only took me (and others on our forums) less than an hour.
But neither the short play time or simple gameplay kept me from enjoying the game one bit. In fact, I'd say it's one of the better physics-based puzzlers I've played recently because it's just dripping with minimalistic style. Each level has a clever title which oftentimes is a vague hint for how you should complete the level. At the end you're met with an equally witty remark fitting the theme of purging the universe of humans which persists through every aspect of the game.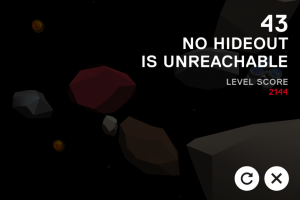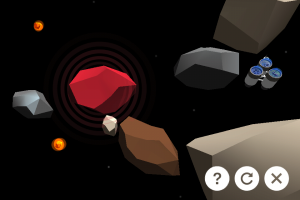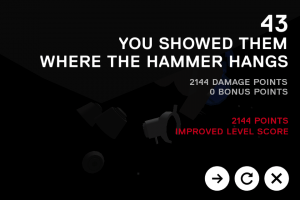 You could easily complain about the length of the game, the limited replay value, the extremely basic implementation of online scoring, and a number of other things. However, it isn't often that I come across an iPhone game that I enjoyed enough that I played from start to finish in one marathon session. I almost like that No, Human plays this way, as it feels like an oddly complete experience. The game doesn't drag on long enough for you to get tired of it, and instead I just found myself saying "Wow, that was cool" as I completed the 50th level and my overall score was displayed.
No, Human satisfies quite a few things from my checklist of what I like to see in iPhone games as well in that it does a good job of resuming when you quit the game, it's universal, and even looks great on the Retina Display of my iPhone 4. The developer is active in our forums, and the web site even mentions a potential expansion pack in the works.
If physics puzzle games are your thing, this isn't a game you want to miss.