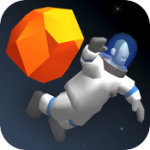 In late August, first time iPhone developer vol-2 released their first game No, Human [$1.99] on the App Store. No, Human is a fun physics-based puzzle game where you harness the power of flaming asteroids to rid the universe of humanity. This clever premise is matched with loads of style and gameplay that kept me playing through the whole game in one marathon session. As I mentioned in our review, really the only down side to No, Human is that it only had 50 levels. An update which just hit the App Store mere moments ago adds an additional 30, making it even easier to recommend.
Check out the trailer if you haven't seen it before:
If you've since removed No, Human from your device, sync it back again to give these new levels a try. If you hesitated on purchasing while you waited for additional content, now is the time to slam your finger down on the "Buy Now" button if physics puzzlers are your cup of tea.