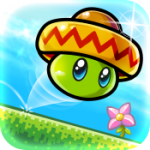 No Brad or Mike this week, but Jared and I manage to power through with a potent podcast of powerful proportions. We hit on the awesome games we played this week, the disappointing ones, and everything in between. Oh, there's a little Wii U chat at the end too if that's the kind of thing you're in to.
Don't forget to shoot us emails with any questions, feedback, or anything else relevant or irrelevant to podcast@toucharcade.com. We read 'em all, even if they don't make it into the podcast. As always, you can listen to us with the links below… And if you like what you hear, please subscribe and/or drop us a review in iTunes. Much appreciated!
iTunes Link: The TouchArcade Show
Zune Marketplace: TouchArcade.com Podcasts
RSS Feed: The TouchArcade Show
Direct Link: TouchArcadeShow-184.mp3, 75.7MB
Games
News
---
This week's episode of The TouchArcade Show is sponsored by…

Bean Dreams, $2.99 - Kumobius has released a brand new game this week: Bean Dreams. It's the sequel to their classic iOS platformer Bean's Quest, which revolved around a clever auto-jumping mechanic that streamlined the platformer genre for touch devices. The sequel takes the gameplay to a new level with power-ups like a magic chili which enables a mid-air dash attack!
But that's not all! Bean Dreams has crisper graphics, all new music, a new world structure system, and better pacing in its achievements system.
It's already a massive adventure – but with updates underway, it's also just getting started.