Just two day ago, Blizzard announced that "Goblins vs. Gnomes," the newest themed expansion for Hearthstone (Free), was set to go live on December 8th, next Monday. Patch notes posted today, however, reveal that the new cards are already available to play in the Arena mode. Booster packs won't go on sale until the the official release next week, but you can pick through a new clutch of cobbled-together contraptions and muddled Ogres right now.
I started an Arena run to see if the new cards had been implemented as promised and was presented with this embarrassment of riches: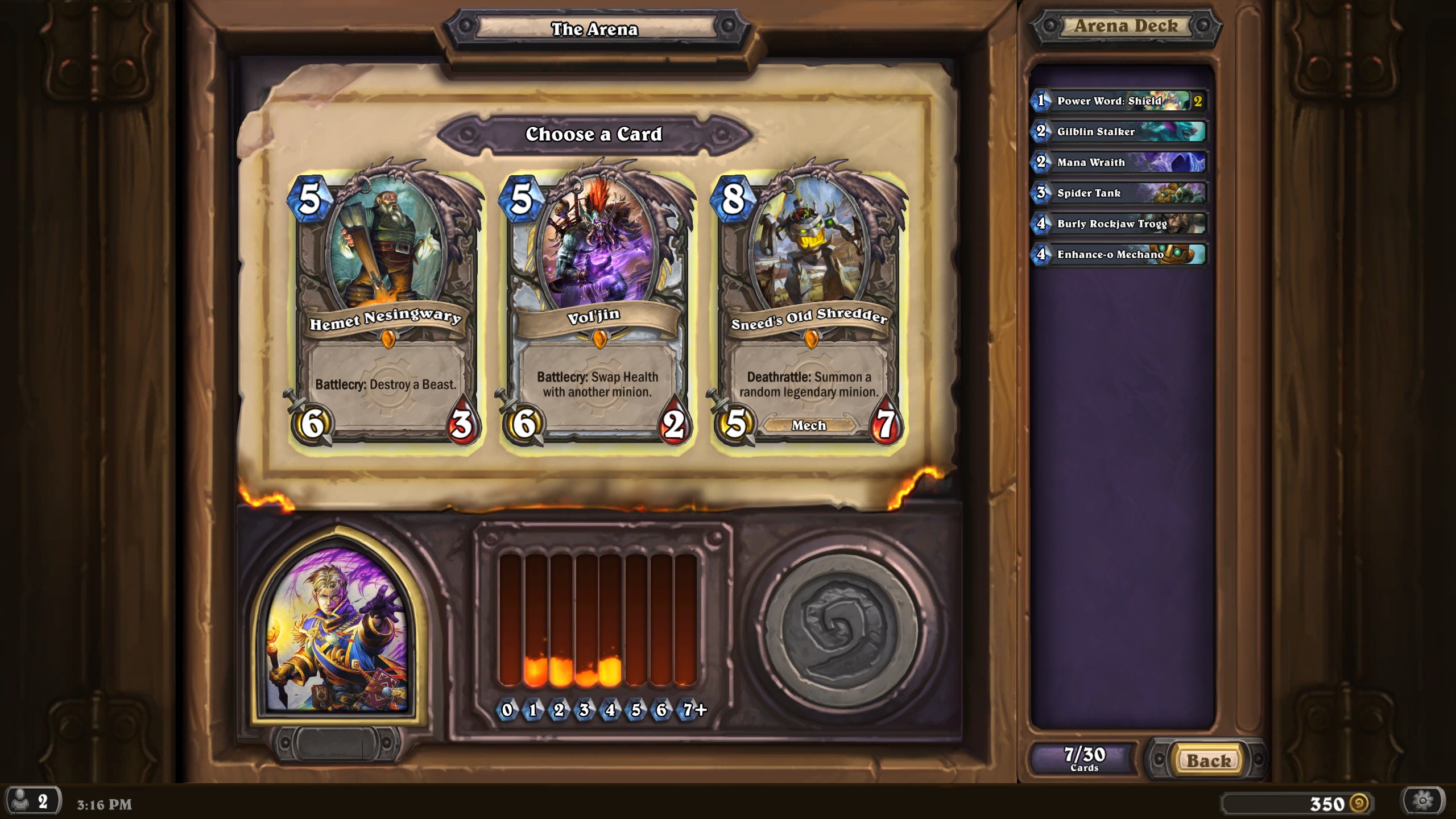 I haven't actually made my pick yet: Vol'jin has insane synergy with other Priest cards like Auchenai Soulpriest and Holy Nova, but Sneed's Old Shredder is a little less situational and has massive upside. Who should I pick?
In any case, it's safe to say that everything is working correctly. Blizzard are calling this a "pre-launch event" that lasts from now until next Monday. If you log into Hearthstone between now and then, you'll get a free Arena entry for your trouble.
Today's patch also includes the balance changes detailed last week: Flare, Soulfire, and Gadgetzan Auctioneer are all having their mana costs increased by one, and those changes are now live. As usual, you can disenchant changed cards for their full Arcane Dust value. A few buggy minion interactions have been fixed: Faceless Manipulators now copy Echoing Oozes correctly, and Kel'Thuzad is no longer invincible against Ragnaros the Firelord. Also, some claptrap creatures are getting new Mech designations (Harvest Golem being the most significant), and the Druid of the Claw is now a Beast in his cat or bear form.
In other news, datamined information suggests that Hearthstone players will receive three free "Goblins vs. Gnomes" packs when the expansion goes live, and that an Android tablet version of the game seems imminent.