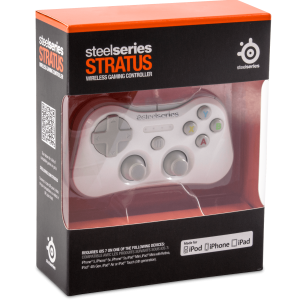 If you haven't heard of it before, meh.com is basically the new woot.com. If you remember Woot from back in the day, it was one gadget for sale a day, usually for a really low price. They only had so many, so when said deal was gone it was gone. Well, somewhere along the way Woot sold to Amazon and instead of being a single deal a day it's a weird amalgamation of all sorts of deals for all sorts of different things. Meh is a reboot of Woot by the original creators, and is incredibly reminiscent of how Woot used to be.
Well, their deal of the day today is a white SteelSeries Stratus iOS game controller for $45 plus $5 shipping. Not a bad deal considering these things typically sell in the neighborhood of $80. We really liked the SteelSeries Stratus in our review, although admittedly the controller landscape has changed a bit since then. Regardless, it's still a great controller and for today only is available at a great price.
If they're sold out by the time you're reading this (Good deals often go fast on these sites!), don't worry. Amazon has refurbished units at effectively the same price since shipping should be free over there. If the whole refurbished thing bothers you, be sure to hop on the Meh deal, as those are new in box units.