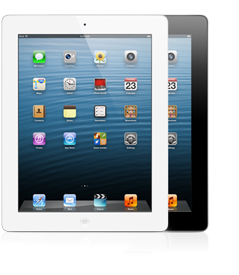 There's a couple of reasons to want a new iPad 4. Either you've yet to own an iPad with a gorgeous retina display, or you just really dig the latest in technology. Regardless, this is a powerful device fitted with a brand new GPU that can push out major graphics without seriously taxing the important stuff, like say, battery power.
And since you got one, you probably want to show it off. The best way to do so is with a video game or two. Below, we've got a list of games that will give your iPad 4 a serious smackdown. And the best part? You'll have fun while you're in awe.
As with all our round-ups, clicking on the price of any game we link will take you directly to the App Store where you can purchase it. We also have reviews available in the brackets after the title as well as a link to our community forum, where game discussion is constantly taking place and members offer up impressions and assistance for all the games that are worth talking about on the App Store. Also you can find videos for many different games on our YouTube channel.
Infinity Blade II, $6.99 – [Review] – [Forum] – Infinity Blade 2 is a fully 3D action game that puts you in the role of a time-traveller armed with sword and shield stuck in a dungeon full of monsters, ogres, and other things that go bump in the night. With intuitive 1:1 swipes, your fingers are your weapons. You can parry enemy attacks, slash, and draw spell runes that damage foes in blasts of ice, fire, and poison. A neat endless time loop lets you dive into the game's fantasy dungeon over and again, while its loot and upgrade component will keep you moving.
Infinity Blade 2 is the most impressive-looking game on the entire iOS platform. Built in Epic Entertainment's masterful engine Unreal Engine 3, you'll constantly be awed by all the moving parts in the game, as well as its lighting and shading effects.
Hornâ"¢, $1.99 – [Review] – [Forum] – If you like the idea of exploring a magical world full of talking golems while solving puzzles along the way, Horn might be your new jam. In this fully 3D game, you control a small boy named Horn in a journey that sees him unlocking the mysteries behind what has happened to his now completely obliterated village. For the most part, this breaks down to heading into several dungeons with monsters that need a good slaying. Finger swipes and gestures are all you'll need to take down any baddies, but you'll need some brains to figure out the environmental puzzles. Hidden levers and traversal with jumps, hooks, and shimmies is what this part of the experience is all about.
Horn shines on iPad as technical piece. Good lighting and atmospheric effects compliment high-resolution assets and awesome animation. This should give your new iPad all it can handle.
Walking Dead: The Game, Free – [Review] – [Forum] – You've probably heard about this on since it's taking the PC, Mac and console space by storm. Walking Dead: The Game is an episodic adventure game that puts you in the shoes of a survivor named Lee as he struggles to come to grips with the zombie apocalypse — and protects a small girl while everything dead around him rises. It's an interesting game that mostly revolves around dialogue choices and tapping interesting places to visit next. Will you protect your past? If so, what are you willing to compromise to do so? When things go wrong, who will you choose to protect and how will that pan out down the line?
These are the questions Walking Dead: The Game constantly asks. It's a violent game that heaps horrible thing after horrible thing on its characters. It's also a looker: this is built for PC first and you can tell. It'll stretch your iPad's legs just fine.
Real Racing 2 HD, $6.99 – [Review] – [Forum] – Because you can make cars look really shiny in the sun or in street lights, racing games have been solid benchmark titles for a long time. Real Racing 2 isn't an exception; the amount of visual detail and the lighting effects are nothing short of impressive. As a bonus, Real Racing 2 is also a good video game. In it, you can drive dozens of licensed cars across a plethora of different modes and tracks, each testing your racing mettle in different ways. It's an authentic racing game, so steering requires some skill, but Real Racing 2 also packs in tons of track and control "assists," that can help you get reach gold in no time.
At almost every Apple event, Apple shows off a Real Racing game. The reason is because they look so good. And while Real Racing 3 is probably going to be more impressive than this game, its predecessor is certainly no slouch.
Anomaly Warzone Earth HD, $3.99 – [Review] – [Forum] – Anomaly Warzone Earth is a "reverse tower defense" game. Let's break this down. Tower defense is a genre of games that have you erecting turret guns in an attempt to stop a conga line of enemies from reaching an end point. Usually a base of some sort. What Anomaly does is put you in the shoes of these "enemies." You control a squad of tanks and other machines of war in a slow crawl through territories laced with turrets. As the commander, it's your job to take down these turrets and get to the end point. On iPad, this is all done via simple touches and swipes and a real-time map charts your progress.
Tower defense games aren't known for their looks, but Anomaly has the best out there. In fact, it's still one of the best looking iPad games out there, courtesy its lighting and animation and its HD assets. It'll impress on your iPad 4.
Zen Bound® 2, $2.99 – [Review] – [Forum] – Although it might look simple on the surface, Zen Bound 2 is one of the most immersive games on the App Store, particularly when played on a Retina Display iPad. The textures, the lighting, and the way you interact with the game provide an very eerie "real" feeling to the game. The object is to swipe and turn a 3D object in a virtual space while coiling and wrapping a string around it. Successfully wrap enough of the object in string to complete it, and earn various levels of rewards depending on just how much of the object you cover. It can be challenging, but also very meditative and relaxing, and it's always satisfying to complete a level 100%.
The Zen Bound series have always been amazing technical show pieces, and the A6X decimates the game. Running at a silky smooth frame rate, Zen Bound 2 further pushes the "Whoa, this feels real" boundary.
The Room, $0.99 – [Review] – [Forum] – The Room is a 3D puzzle game about secrets. It's kinda hard to break down, so follow us for a second. In the opening level of the game, you'll be presented with a massive box with several hidden chambers and compartments. Each of these compartments and chambers are mini-puzzles that offer up a clue as to what to unlock next. While you're puzzling out what to do, The Room assaults you with haunting music and a feeling of dread. You don't know why this box is here, why you need to know its secrets, but you really want to dive in. This is the magic of The Room.
Because The Room is presented in a first-person perspective, it really needed to amp up its visual element. It succeeds here. The wood of the box looks beautiful, the lighting is perfect, and things appear eerily real. It'll give your iPad 4 a go.
Sky Gamblers: Air Supremacy, $2.99 – [Review] – [Forum] – The thing Sky Gamblers Air Supremacy does best is deliver a sense of mind-numbing speed, real pedal to the metal kind of stuff. In the game, you're put behind the stick of a jet and are tasked with spewing bullets and bombs into opposing planes, vehicles, and other various targets. Sweet, simple virtual controls make maneuvering a breeze while the art and graphical design make it a pleasure to look at. Split across dozens of levels with unique hooks, the action in Sky Gambler rarely gets tedious.
We mentioned it looks great, and yeah, that's definitely the case on iPad 4, too. Like a racing game, the attention to detail on the vehicles is intense. You might also dig the attention put into the various landscapes you are zooming across.
Dead Spaceâ"¢, $4.99 – [Review] – [Forum] – Dead Space is a third-person action horror game. With gestures or virtual buttons, you control an avatar named "Vandal" who finds itself alone and in danger on a space mining colony called Sprawl. An event has triggered an alien invasion of sorts, and it's up to you to guide Vandal through it and even against it with a selection of sci-fi guns. The most remarkable thing about Dead Space is its scary atmosphere, which is bolstered by a couple of superb elements, most notably its audio and artistic direction.
It's hard not to fall in love with the way this game looks. Excellent lighting really heightens the tension, while high-resolution models make you feel like you're playing the console and PC games this is based on. It's a definite must on new devices.

Need for Speedâ"¢ Most Wanted, $4.99 – [Review] – [Forum] – Racing games often cheat better looking graphics by focusing on having the actual car models look amazing, while detail in the rest of the game suffers. This isn't the case with Need For Speed Most Wanted. Road signs are legible, the sense of speed is crazy, and reflections off the road look like something you'd expect on a console.
Being an arcade racer, it lacks a bit in the depth department, but Most Wanted provides a fantastic glimpse of what Firemonkeys have up their proverbial sleeve with the impending release of Real Racing 3 which is looking incredible in every sense of the word.
---
We write about a lot of video games at TouchArcade and most of our favorites are these kinds of games, these graphically and artistically complex titles that not only wow our eyes but also give our hands a bit of a challenge. If you're new, consider visiting us from time to time, as we're completely focused on finding the best new stuff and giving you details on the best App Store games.
iPad 4, by the way? Looking pretty cool. We'll continue following-up on the device and as new games (and updates) are announced, we'll give you the scoop.