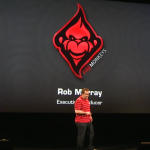 If you're unfamiliar with the Real Racing series, and you own an iPhone, I've really got to wonder what in the world you've been up to these past few years. The original Real Racing ($2.99) knocked our socks off when it was first released in 2009, and Real Racing 2 ($4.99) continued the tradition a little over a year and a half later. Since then, Real Racing 2 has been on the cutting edge of iOS technology, and was among the first games to support 1080p out on the iPad 2 as well as being one of the first off the line to take advantage of the iPhone 4S. So, there's very good reason to get excited for the just announced Real Racing 3.
Rob Murray took the stage, and showed off this screenshot:
He then went on to show off a video of the game (which we'll post as soon as we get our hands on it) and mention the game will have real tracks such as Leguna Seca, real cars with Porsche, Audi, and Dodge. It'll even have 22 cars in each race.
Sounds awesome.