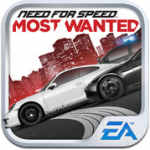 It's crazy to think that in a couple of years we'll be celebrating the twentieth anniversary of the Need for Speed series. The games have come a shockingly long way since the original 3DO release in 1994, and while Need For Speed Most Wanted ($4.99) definitely has that highly-iterative EA feel to it, they're getting closer and closer to perfection.
I'd find it hard to believe that anyone reading TouchArcade hasn't played a Need For Speed game, but assuming you're part of that confusing demographic, here's the gist: If the title wasn't a big enough hint, all the racing games in the series hinge around the idea of going really, really fast. That sensation of speed is a cornerstone of any racer, and Need For Speed Most Wanted is no slouch in that department. In fact, I'd say Most Wanted provides the best sensation of speed I've experienced on an iOS device- particularly when played on the wide screen of the iPhone 5.
Like other games in the series, Need For Speed Most Wanted is home to a whole bunch of licensed cars. There's 35 in all and they range from boring starter cars like the Ford Focus moving right on up to exotics like the Bugatti Veyron. The Tesla Roadster is also included, and, amusingly enough, hitting the nitrous doesn't cause flames to come out the back. Joining these licensed cars is a host of licensed music which seems to fit the overall mood of the game quite well. Most Wanted also offers both touch and tilt control options, and though I don't normally prefer them for most games, I found the default tilt option to be far superior to touch in allowing precision and subtlety in movement.
Unlocking cars involves performing well in races, earning in-game currency, and buying whatever you can afford. Of course you can also buy this in-game currency using real-world currency, but it feels exceedingly optional and like the game is paced to just allow you to unlock a new car every few races anyway. So, unless you just want to immediately buy the Veyron and completely break the game, the initial $6.99 to get in the door is all you'll need to fork out to enjoy it- A welcome change from Gameloft's offerings, comparatively.
Each of the different members of the Need For Speed family have a slightly different flavor, and Most Wanted's chief variant is the addition of a police chase system. During races, you'll be harassed by various layers of police pursuing you. There's a hefty amount of audio cues telling you when things like roadblocks are coming up as well as when new police cars are joining the fray.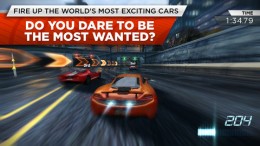 Overall, the police don't provide that much challenge, but they do add quite a bit to just generally making you feel awesome while playing. Need For Speed Most Wanted is an arcade racer to its core, and its strong suit definitely is providing you those moments that have you saying to yourself, "OK, that was really cool."
Case in point involves a recent race I was playing, where I was sparring with the first place racer. I had a police car constantly buzzing around me which was continually thwarting my attempts at a successful pass as I'd lose a bit of speed and control each time he bumped me. Spotting a divided tunnel up ahead, I positioned myself next to the police car to send him slamming directly into the pillar dividing each side of the track. The cop crashes, the camera spins around to provide a cinematic view, and my nitrous instantly recharges. I swipe up to send my car boosting forward, and manage to swerve right in front of the first place driver moments before crossing the finish line.
It's moments like that where Need For Speed Most Wanted truly shines, as that sort of excitement almost makes you forget that you're playing this game on your phone. The graphics in Need For Speed Most Wanted are incredible, and feel like a taste of what's to come in the studio's upcoming Real Racing 3. The level of detail is incredible, especially as it remains consistent across the whole scene.
It seems like all too often in racing games you can "cheat" better graphics by dumping most of your assets into making the cars themselves look good, as when you're staring at the back or your car for the whole race it's easy to not notice how low resolution everything else is- Particularly at speed. This isn't the case at all in Most Wanted, in fact, being able to actually read all the details in the game (like road signs, billboards, etc.) is even a little distracting when you realize you can.
As far as a quick pick up and play arcade racer is concerned, Most Wanted absolutely knocks it out of the park. If you're on the hunt for a game that'll allow you to play a race or two, have a great time, unlock a car or two, and come back later, you need to stop what you're doing and just download Need For Speed Most Wanted right now.
Where Most Wanted really begins to falter is in the depth department. Unless there's some sort of major UI failure and I'm completely overlooking it, the only car real customization to speak of is changing your paint job. This costs in-game money too, which is a little annoying. There's the most basic system of performance upgrades, but that's it. Also, if you're playing in a marathon session, the few included race types all start to feel a little same-y, as do the limited set of locales they take place in.
There's some social features, but they all rely on Origin. I'd be vaguely interested in the times my friends were getting in races if it didn't involve setting up yet another social gaming network with its own login, friends list, and achievements. This could be an up-side to you, however, if you're heavily invested in Origin and the Need For Speed Autolog, as Most Wanted hooks in to all of that. I'm more of a Game Center kind of guy, so it's lost on me.
With that being said, I'm having an absolutely fabulous time playing Need For Speed Most Wanted. It's not the deepest racer in the world, but I've never felt that arcade racers need to come with loads of depth as they're all about just driving cars you'll never be able to afford, going fast as you can, and rapid-firing "that was awesome" moments: Three things Most Wanted totally nails in my book. If you prefer racers that lean more towards the simulation side of things, keep an eye out for Real Racing 3. I'll be slamming into cop cars in the meantime, if you need me.