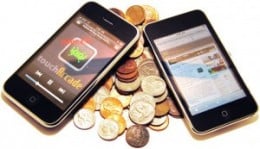 It's Friday, it's the beginning of the weekend, and well, that's as good a reason as any to have developers put a bunch of iOS games on sale. I wonder, do other industries have as many sales as the App Store? It reminds me of when furniture stores have giant "Going Out of Business!!" sales and purport to slash prices to ridiculous levels, clear out some stock, then open up 6 months later under a new name. Or something like that?
Anyway, while I waste away my Friday by pondering such insignificant questions, you should get busy downloadin' because there's some pretty great games available for FREE and another set of decent titles that have been discounted down from their normal price. Here ya go!
These games are FREE:
These games are on SALE:
Remember the roller coaster of emotions that the App Store can be, and grab whatever you think looks interesting before the prices decide to suddenly jump back up to normal, especially since a few of these sales are from earlier in the week. You can never be too careful, these days, so always double check the price before downloading. This public service announcement has been brought to you by The Bearded One. Have a good weekend!