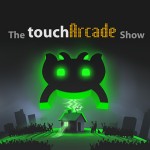 We're much more on-topic in this week's episode of The TouchArcade Show. At the top, we note our zombie fatigue and talk about the latest rash of zombie video games, including Telltale Games' masterful point-and-click adventure game, Walking Dead: The Game. Later, we dive back into Fieldrunners 2 alongside Eli, which leads to a discussion about how we'd like games to be balanced. Other topics this week include: cloned games, subscription gaming, Firemint post-merger, and the upcoming TouchArcade app update (which actually was submitted today). Unfortunately, we recorded the podcast just before discovering the incredible 10000000 ($2.99), so if you're looking for an awesome game to play this weekend and want to be up on it for when we talk about it next week, check out our review.
If you'd like to give us a listen this week, go ahead via the links below. Additionally, you can subscribe to us on iTunes and Zune. Subscribing is the quickest way to get our latest content, so it's a smart move.
iTunes Link: The TouchArcade Show
Zune Marketplace: TouchArcade.com Podcasts
RSS Feed: The TouchArcade Show
Direct Link: TouchArcadeShow-062.mp3, 37.5MB
Here are your show notes:
GAMES
FRONT PAGE
---
This week's episode of The TouchArcade Show is sponsored by Bubble Witch Saga.

Bubble Witch Saga, Free Double, double, toil and trouble!
Bubble Witch Saga is one of the most popular games on Facebook with over four and a half million daily players. Developer King.com has now launched a mobile version of the game for the iPhone.
Bubble Witch Saga offers 150 levels of bubble popping fun and is fully synchronized with the Facebook version. This means that if you have reached level 22 on Facebook, you will also be at level 22 in the iPhone version. And if you are already playing the game on Facebook you will get five additional lives when you play on your iPhone as well.
Bubble Witch Saga is free to download in the App Store.