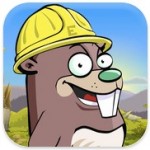 Like it or not, you can't ignore the physics puzzle category on iOS. With so many games to play that are just like it, why would anyone want to play Eager Beaver ($0.99)? Because you've never played one with an incredibly excited beaver before, that's why.
Most of the beavers in Eager Beaver are lethargic and just don't care too much about building dams. In their place we have Edgar, a beaver who is so good at building dams that he has even created contraptions to do it for him. Edgar seems so excited about building dams that you probably won't be able to help get a bit excited yourself.
In Woodstone Park, we've come to find out that an evil beaver, appropriately named Beavil, has created a flood heading toward the beaver camp, so Edgar and his ragtag contraptions need to help stop the excess water from reaching their homes. What this all boils down to is building dams with debris found in the forest by dropping it in the river, piece by piece. You are not timed, but the control does require that you drop the debris from a rather high height, meaning the pieces will drop where you may not intend or cause other pieces to move from the impact.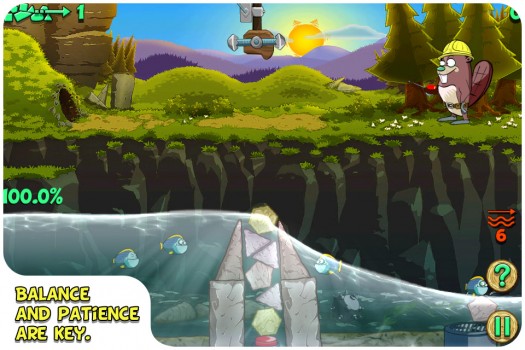 Where the challenge of completing the levels comes in is with the limited debris you're given to create a dam in a single level. It also doesn't help that the crane will rotate the blocks constantly, so dropping them exactly where you want is a challenge in and of itself. The difficulty is exacerbated by the fish that share the river, which will knock the blocks out of the way. The less blocks you use to create the dam, the more score you'll earn, and in turn, the quicker you'll unlock more levels to play.
Some helpful interface elements make the game less frustrating than it sounds, by telling you what percentage of the dam is dammed up, along with a display of which blocks are coming next for you to use. Without these, it would be quite difficult to come up with wise strategies for your dams. Fifty levels are at your disposal, and each set of 10 has a different theme to take on, with the typical fare being represented. Supported by the cute graphics, the additional themes are a nice treat.
Filling out the feature list are Game Center achievements and leaderboards, which all games of this type should be shipping with anyway. You can't have a game like this without some sort of competitive aspect, otherwise the incentive to replay levels for a higher score is minimal. Gamagio really has a fun game here with plenty of stressful levels, and it's always nice to see more fun games in this genre hit the App Store. All too often do we see games like this too afraid to create a real challenge, yet Eager Beaver does that and does it well.