Hopefully by now you've already downloaded and are enjoying using the TouchArcade app (Free), if not, you should really get on that. One of the main criticisms following the app's launch was that initially, it was only for the smaller screens of the iPhone and iPod touch. Well, we've been hard at work on making the app universal, and I'd go as far as to say that browsing TouchArcade inside of the app on my iPad is my new favorite way to consume TouchArcade content. It just feels… right.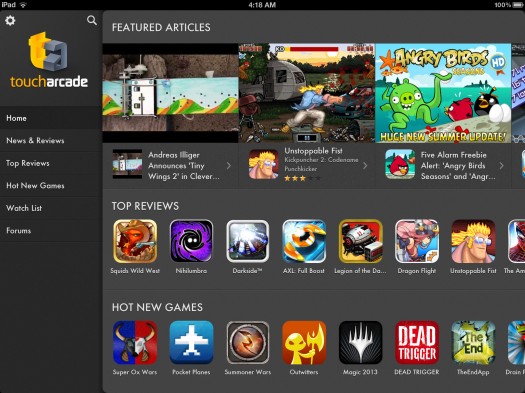 If you're familiar with the small screen version, the above screenshot will make a lot of sense. We basically took the iPhone version, and gave everything a lot of breathing room. Instead of only seeing the main featured story, you can scroll through all the past featured stories. Similarly, joining the hot games list is a display of our latest reviews, making it super easy to check out all the latest TouchArcade content right from the home screen.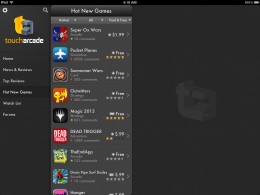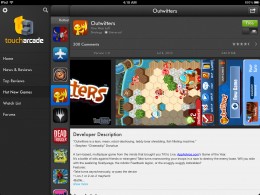 Game listings fill a similarly sized column, much like the existing version. With the universal update, tapping on a hot game will bring up all the details for that game while still being able to easily browse to other games in that list without leaving this screen. The game's details are also much easier to read with much less scrolling.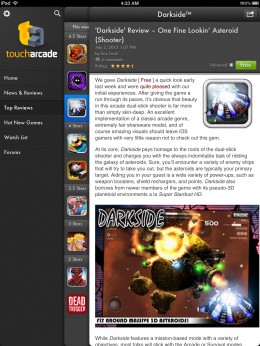 Portrait mode is also supported, and everything else shifts into place when you turn your iPad. The home screen changes slightly, allowing you to view four featured stories at once in this orientation. Push notifications will come to the iPad as well, and this update even introduces a custom push alert sound. If you normally roll with sound on, you'll know when you're getting a TouchArcade alert with a delightfully retro sounding alert.
We're in the final stages of testing the universal update to the TouchArcade app, so, barring any strange last minute issues it should be available on the App Store inside of the next couple weeks.
If you want to see how it all looks in motion, check out this short video I put together:
All of this is possible thanks to the awesome guys at Flexbits, and Bartelme Design!