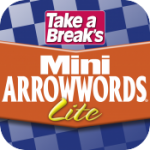 If you're big on periodicals, chances are you've become intimately familiar with Apple's Newsstand functionality that was introduced in iOS 5. If you're not, here's how it works in a nutshell- Magazine and newspaper apps all get filed away under the Newsstand folder, and when new issues are available, they just appear automagically.
Up until now, Newsstand was home to fantastic selections like The New York Times , The Daily , and tons more. Interactivity in these newspaper apps generally is limited to flipping pages and publisher H Bauer is the first to break away from that with a completely game-oriented app.
Take a Break's Mini Arrowwords (Free) is a word puzzle game that has you filling in letters on a grid to clues that span all sorts of categories from historical trivia to pop culture. Check it out: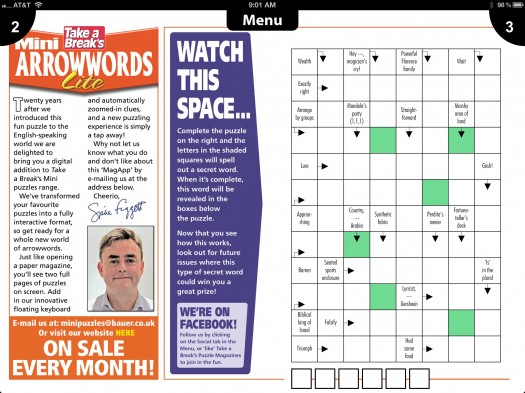 I fiddled around with it a bit this morning, and it's actually sort of cool because it feels like an evolution on those word puzzle books you bought at truck stops when you got tired of the cartridge in your Gameboy and reached peak boredom on some cross country road trip. (Come on, we've all been there.) Like most Newsstand entries, you get a taste for free just for downloading the app. From there, you can buy future issues for $1.99 a pop, or subscribe for 6 issues or 12 issues at the price of $9.99 or $17.99.
It'll be interesting to see where H Bauer (and other publishers) take Newsstand gaming, as I could definitely see a niche that could be filled with these types of puzzle books. However, apps often seem to live or die by chart position, category placement, and featuring. If I were looking for a game to play, the Newsstand aisle in the App Store would be the last place I'd look, compared to the seemingly much more sensible Games section.
Regardless, this is definitely something I'll be keeping an eye out for in the future.
via PocketGamer