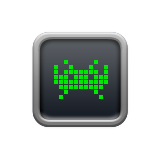 As we mentioned in January, we're bringing back our monthly "Best of" roundups. Much like the February and March, the end of May and the beginning of June hit right smack dab in the middle for preparing for and attending both E3 and WWDC– Two incredibly busy events that also landed on the exact same week, something I hope never ever happens again. So, just like before, we're doing an extra large double month double feature.
Our ratings for games we reviewed in both May and June are now in place, and we now present to you the ones that are on the top of the heap. Each game reviewed receives a 1-5 star rating relative to the other games from that month. Generally, a 3 or higher is considered a "good" rating.
Our final scores are not the product of any traditionally objective measures such as graphics or sound, but simply reflect the games we would most recommend to others.
5 Stars
Bumpy Road, $2.99 - [Review] – [Forum Thread] – It's not often that a game comes along in the App Store that makes you think, "Wow, why didn't someone think of this sooner?". Bumpy Road is just that kind of game. The control system to control the game world rather than the car is remarkably clever, and since its initial release it's even seen some update love from the developers.
Great Little War Game, $1.99 - [Review] – [Forum Thread] – As mentioned in our review, this game is anything but little. Great Little War Game is a turn-based strategy game that we consider a must have for anyone even vaguely interested in the genre. The developers are remarkably active in our community, and thus far GLWG's updates have been fantastic, both in implementing new features as well as forum feedback.
Tiny Tower: 8 Bit Retro Tycoon, Free - [Review] – [Forum Thread] – NimbleBit set some sky high expectations with Pocket Frogs [Free], their previous (and first) foray into the free to play world. I'd go as far as to say that Tiny Tower is even better, as it has completely taken over my household.
Pocket Academy, $5.99 - [Review] – [Forum Thread] – It seems like ever since Game Dev Story [$1.99 we just can't get enough of Kairosoft simulations. This one in particular puts you in charge of a school, and while many of the mechanics might not be immediately apparent, once the game grabs you, it doesn't let go.
Casey's Contraptions HD, $2.99 - [Review] – [Forum Thread] – There are tons of contraption-building games on the App Store, but few are as good as Casey's Contraptions. The theme of the game is gloriously whimsical, and you can spend hours delving through the clever and convoluted solutions your friends post via Game Center.
4.5 Stars
STREET FIGHTER IV VOLT, $4.99 - [Review] – [Forum Thread] – Capcom is following their time honored tradition of relentlessly re-releasing Street Fighter with Street Fighter IV Volt. This time around there are three new characters as well as online multiplayer. We'd easily have given Volt 5 stars, but in its current state the online play is very hit or miss and more often than not is mostly unplayable. However, if you do get a match with no lag, it's awesome.
1-bit Ninja, $2.99 - [Review] – [Forum Thread] – This seemingly 2D game is built around a clever gimmick of being able to shift the camera to a 3D perspective to see platforms that are obscured by looking at it from straight on. It's really cool, and if you like platformers, this is one you need.
Sonic & SEGA All-Stars Racing, $3.99 - [Review] – [Forum Thread] – If you've had a taste for Mario Kart, Sega has you covered. All-Stars Racing is loaded with familiar characters, has online multiplayer, and is even universal.
Juice Belts, $0.99 - [Review] – [Forum Thread] – Line drawing is such a great mechanic on iOS devices, and it works out especially good in this game as you're drawing conveyor belts to deliver fruit to a juicer. Difficulty ramps up well, and the game feels fresh from start to finish.
Velocispider, $2.99 - [Review] – [Forum Thread] – This fantastic tilt-controlled shooter has sucked up entirely too much of our time. With nods to retro shooters like Space Invaders, awesome pixel art, and universal compatibility Velocispider is simply fantastic.
House of Mice, $0.99 - [Review] – [Forum Thread] – We're still baffled by the mechanics of this game, and why the cat doesn't just eat the mice instead of getting blown up by them, but whatever. This is a great physics puzzle game.
Candy Train, Free - [Review] – [Forum Thread] – This is a shockingly fun and free game from PopCap (Well, 4th and Battery to be specific.) that's also universal. What else do you need to know?!
---
The rest of the game ratings can be seen in their respective rating categories (also found in the sidebar navigation): 5 Stars, 4.5 Stars, 4 Stars, 3.5 Stars, 3 Stars, and 2 Stars.
As always, we expect there will be some debate about relative scores, but keep in mind that everyone's personal ratings may vary based on individual tastes.