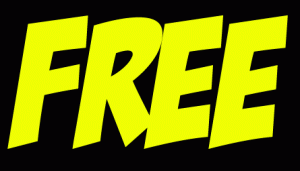 Miffed that EA made Mirror's Edge free for everyone but Americans? Well, here is a whole bundle of freebies that everyone can get in on. Like always, these freebies are all limited time promotions. Everything was free when I posted this, but with the volatile nature of the App Store, they could return to their regular price at any time. If you're interested in any of these games, it's probably best to snag them ASAP.
Some of these games may seem a little old for veterans of App Store gaming, but if you just picked up an iPod touch or iPhone for Christmas, these are all worth downloading:
Death Wormâ"¢ Deluxe, $4.99 – [Review] – [Forum Thread] – Super Mega Worm [99¢] seems to really have stolen Death Worm's thunder by releasing first, even though Death Worm is actually a official version of the original game, developed in conjunction with its creator. If you've skipped Death Worm because you already owned Super Mega Worm, give this game a try and see which you like better.
DrawRace - Turbo Edition, $0.99 – [Review] – [Forum Thread] – This is a really cool game, and old enough that it's likely that recent iPhone owners might not even know about it. The premise of the game involves drawing around a race track with your finger, the faster you draw, the faster your car goes. Similarly, to slow down, you slow your finger down. Your car then races on the path that you made for it. Very cool stuff that was highly innovative when it was first released.
:Shift:, $0.99 – [Review] – [Forum Thread] – This puzzle game was originally a free Flash game that was also a bunch of fun. Basically, you're able to shift the world around, which turns white objects black and vice versa. Doing this allows you to run and jump on top of what was open air, and solving puzzles often requires many shifts to get to the exit. This game is a little old, but it's still a bunch of fun.
Vector Tanks (Classic Version), Free – [Review] – [Forum Thread] – A gloriously retro re-imagination of the classic game Battlezone. If you like this version of the game, Vector Tanks Extreme is totally worth a buck as it comes with even more content, universal compatibility and Retina Display graphics.
Fallen EP-1, Free – [Review] – [Forum Thread] – I actually had stumbled across this game while looking for something unrelated for our year end posts, and it's still a really cool survival horror game. Unfortunately, it's still version 1.0 so the issue with the game allowing you to save in game-breaking places are still there, and even more unfortunate, a second episode was never released. Still, this is a short fun game that will make you sad that the series seems to have been abandoned.
Rogue Runner, Free – [Review] – [Forum Thread] – While Fallen has seen no developer support, Rogue Runner has seen tons. What started as a fairly basic running game now has tons of different levels, characters, and more. If you like endless running games, this is one you need to snag.
This is just a small selection of what's available for free, for a full listing check out AppShopper or download the free AppShopper app.