This one comes as a shock. In an age where gargantuan mega-corporations are gobbling up smaller development studios for prices reaching into the tens and hundreds of millions, everyone seems to want to play the guessing game of who the next acquisition will be. But I don't think this one crossed anybody's mind. Australian developer Firemint, who have been making games for over a decade but struck it big with their iOS titles Flight Control [99¢/Lite/HD] and Real Racing [$4.99/Lite/HD] in 2009, and more recently with Real Racing 2 [$9.99] in 2010, have struck a deal to buy fellow Aussie developer Infinite Interactive, who have existed for twice as long as Firemint and are most widely known for their Puzzle Quest series.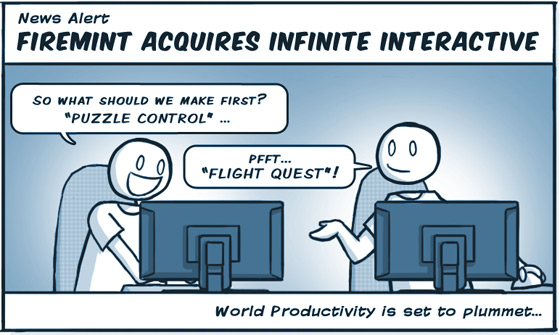 The juicy details regarding pricing weren't disclosed, but it sounds like a happy venture for all parties involved. Infinite Interactive will consolidate its team into Firemint's in their newly expanded Melbourne offices.  Steve Fawkner, founder of Infinite Interactive, will take on a management role at Firemint and continue working with his current team on a project that is already in progress. All games developed by the newly combined studios will be released under the Firemint name. It sounds like Steve Fawkner and Firemint founder Rob Murray had been flirting with the idea of collaborating on projects at various points over the last decade, and now with the combined power of their respective studios they will be able to do just that.
We'll be eager to find out exactly what kind of projects will come from the new-look Firemint, and until we get any further information regarding new titles you can drop by this discussion thread in our forums and leave your opinion about this latest merger.