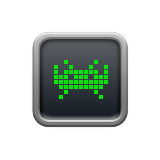 With the year coming to a close, I feel confident in saying with as much authority as I can muster that 2009 has been an amazing year. Soon we will be posting the results of weeks of deliberation on what we feel were the best games, a holiday buyer's guide for people who opened an iPod touch or iPhone this Christmas, and other year-end stories highlighting the various games we feel are the "must-haves" of 2009– But it hardly seems right to summarize the year in a few simple lists of game titles, brief synopses and links to reviews when so many remarkable games were created and events transpired that were still highly noteworthy or influential but fall outside of the rigid boundaries of "best of" listings.
When the App Store first launched on July 10th, 2008, very few people, myself included, realized the full potential of a reasonably open platform with a $99 entry fee that allowed developers building games in their bedrooms to be on equal footing with industry giants. The success of the pioneers of the App Store created a gold rush of talent, with new eager developers hoping to see even a fraction of the success of the stories that motivated their migration to the platform. 2009 was filled with even more inspirational tales of developers quitting their day jobs and building full-fledged businesses off of the App Store.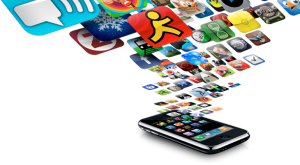 2009 also marked the year that the indie developer dreams of Imangi Studios, Bolt Creative, InMotion Software, Tiger Style Games, and many others were fully realized with titles created out of basements and on kitchen tables without a single cent of outside financing that were able to compete with the likes of EA, Activision, Sega, Namco, and other giants of the gaming industry. Everything they created was their own, a feat nearly impossible on any other platform.
Before 2009, no iPhone gamers cared about or likely even knew the name Tim Langdell, a man who has now become infamous amongst the community for relentlessly disputing ancient trademarks and consistently keeping Mobigame's EDGE off the App Store. We were impressed by the game when we first posted about it on January 4th, before anyone even had a clue of the legal battles to come. Since its was taken down, EDGE has briefly appeared for download several times throughout the year, but even as 2009 is coming to a close the fate of this game still is unclear.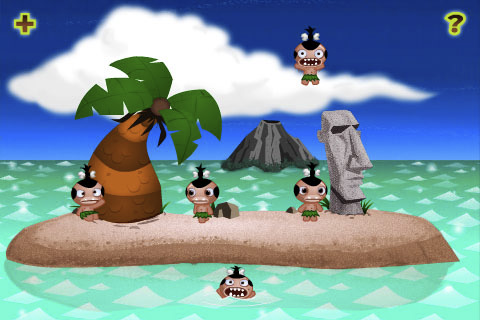 Five days following the release of EDGE, Pocket God [99¢] made its debut on the App Store. At the time, not even Bolt Creative realized the cult following that the game would soon have. We didn't even post about it until months later, as in its earliest form Pocket God barely resembled what you would call a game– But the Pocket God phenomenon was growing too large to even attempt to ignore. Since then the game has seen 29 episodes, each representing a substantial content update and according to the Independent Games Festival trailer, Pocket God has over 1.6 million worldwide fans– A number easily confirmed by the blitz of forum members swarming each and every Pocket God thread posted on our forums along with countless other Pocket God fan-made spinoff sites.
February was an even bigger month than January for iPhone games, with Rogue Touch's [99¢] release and its continued dominance throughout the year with the developer consistently implementing community feedback, solidifying its position as the best implementation of Rogue on the platform. iDracula [99¢ / Free] was also released, and was the first dual-stick shooter to rise to the #1 position on the overall paid app sales chart– Its success no doubt inspiring countless other developers to throw their hats in to the dual-stick shooter ring.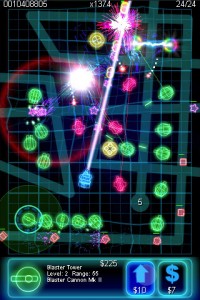 In a sea of tower defense games, February also saw geoDefense [$1.99 / Free], a game that challenged fans of the genre with its brutal difficulty level which was designed from the ground up to never create a situation where the player is able to sit back and watch as waves of creeps are slaughtered by their defenses. Since then, geoDefense Swarm [$1.99] appeared on the App Store, after much anticipation from the fan base of the original game, which had grown so hardcore that they even challenged developer David Whatley to post the source code controlling one of the game's towers to verify its functionality.
On March 5th, Flight Control [99¢] hit the App Store with a bang, in essence creating the line drawing chaos management genre which was spawned an army of games with similar gameplay elements or control mechanics. Games like Harbor Master [99¢ / Free] were among the first in expanding on the Flight Control formula, but none of the spinoffs even saw a fraction of the success of Flight Control, a game which has held a firm position near the top of the paid apps listing since its release with a fan following of celebrities such as Ashton Kutcher and Demi Moore challenging each other via Twitter.
Doodle Jump [99¢] was also released in March, a simple tilting game which has since seen several updates and to this day still hasn't left the second screen of my iPhone 3G, along with being among the very first batch of essential apps and games that were synced to my iPhone 3GS shortly after unboxing it on the day of its release. Doodle Jump has become the gold standard that most simple games are compared to on TouchArcade, and it seems impossible for us to record a podcast without mentioning it at least once.
One of the most memorable games for me of April (aside from Ow My Balls! [99¢]) was Hysteria Project [$1.99], a game that combined live action footage with simple gameplay elements reminiscent of Sega CD or LaserDisc full motion video games. Ultimately the game fell flat due to a short playtime and nearly non-existent replay value, but I still have to admire the amount of talent, planning, and production that went in to creating the many video clips and impressive horror/thriller atmosphere. Hysteria Project seems to be abandoned now with updates released only addressing existing bugs and iTunes reviews flooded by users requesting additional content. Regardless, if you're a fan of games like Dragon's Lair [$4.99], you will likely appreciate the direction Bulkypix attempted to go with Hysteria Project.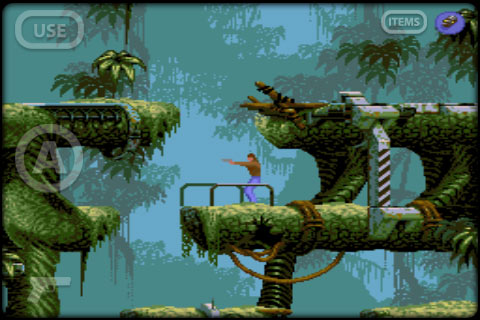 May brought Manomio's port of Flashback [$1.99 / 99¢], a game which curiously enough was only an interpreter of the original game files based on the REminiscence engine by Gregory Montoir. On the first launch of the game it downloaded 3MB of the original DOS data files in order to play the game. No one knew it at the time, but this mechanism foreshadowed the dramatic release and re-release saga of their Commodore 64 Emulator [$2.99], an app which sparked countless debates over the merits of Apple's approval process as its fate on the App Store slowly unfolded.
Sega's Sonic The Hedgehog [$5.99] was also released around this time, and it didn't take long for clever members of the community to pick the game apart and discover that it was little more than Sega's own emulator– And with a minimal amount of tweaking could be made to play any Genesis ROM file. Emulation on the iPhone was punctuated in late December with the release of Nescaline, a NES emulator based on NES v3 available on Cydia. Only available for a few short hours, retro fans willing to cough up $6.99 during this time are now among a small group of gamers capable of running any NES game on their device without jailbreaking.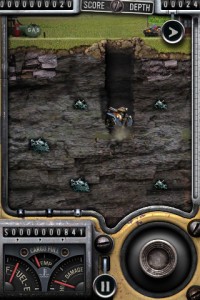 While we were at WWDC, the talk of the town seemed to be InMotion Software's I Dig It [App Store], an amazing game that came completely out of left field and seemed to captivate anyone who got passed an iPhone with it installed during the event. After each night of the conference when our own Blake Patterson insisted on taking us to his favorite bar in San Francisco, The Tempest, I'd run my battery completely out searching for diggins while drinking gin and tonics. I Dig It eventually hit #1 on the iTunes sales charts, and in the wake of its success, InMotion Software released I Dig It Expeditions [99¢ / Free]– A sequel and vast improvement on the original.
After a tease at the WWDC Launch Party that was co-hosted by TouchArcade and MacHeist, Doom Resurrection [$1.99] was available for download. Launched at the premium price of $9.99, Doom Resurrection utilized the same assets as Doom 3, and while there were many 3D games available on the App Store prior to its release, Doom Resurrection was likely the first title that truly opened the eyes of iPhone gamers allowing them to see the true graphical potential of the platform.
SGN's F.A.S.T. [Free] also went live on the App Store in late June, and was among the first games for the iPhone to offer seamless realtime action oriented multiplayer. Following its release at $9.99, F.A.S.T. has slowly had its price reduced and is now free and funded by in-game downloadable content— A feature available to developers following the release of the iPhone 3.0 OS on June 17th.
The iPhone 3GS hit the street on June 19th, packing a faster processor, more storage, a compass, and most important to gamers: OpenGL ES 2.0 capabilities. It would still be some time before this new functionality would realized by developers, and 2009 is coming to a close without the compass being used for anything more than gimmicky augmented reality tech demo games and with developers only barely scratching the surface of OpenGL ES 2.0– With a select few games even taking advantage of the additional shaders and other graphical effects available on the 3GS and later released 3rd generation iPod touch.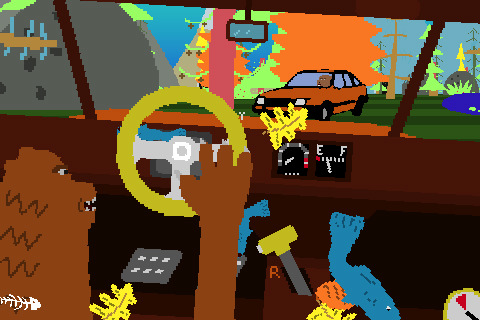 The entire month of July was overshadowed by the release of Enviro-Bear 2010 [99¢] an experience which polarized gamers in to two camps: Those who thought Enviro-Bear 2010 was the worst game that they ever played and couldn't understand why we would post about it, and those who agreed with me that it was the Citizen Kane of iPhone games. Featuring the most realistic simulation of a bear driving a car available on the platform, Enviro-Bear 2010 is still talked about on our forums and referenced in a few other games, most notably the recent Minigore [$1.99] update.
Also first available in July, Newtoy's Words With Friends [$1.99 / Free] joined Chess With Friends [$2.99 / Free] in providing the iPhone equivalent of correspondence gaming to the games of Chess and not-quite-Scrabble. CEO Paul Bettner later revealed some amazing usage statistics at GDC Austin in mid-September: the Newtoy games had 50,000 active players daily. While Pinch Media reported the average iPhone app user spent less than 5 minutes on an app per day, Chess With Friends and Words With Friends players spent an average time of 1.5 hours playing each day.
The most notable game to come out of August was by far Tiger Style's Spider: The Secret of Bryce Manor [$2.99]. Released without a single preview, Spider instantly captivated our entire community. The allure of such a mysterious yet high quality game was irresistible as Bryce Manor itself held a mystery which the player could either follow their human curiosity choose to explore the story of the game, or simply enjoy the game as a spider catching bugs and completely ignore it. This was just many of the remarkably ingenious design decisions found in Spider, and the game's entire design process perfectly embodied the indie development spirit of the platform.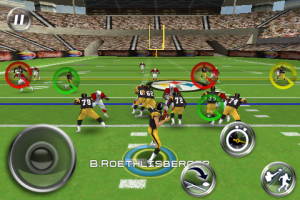 Beating EA to the punch by an entire month, Gameloft's NFL 2010 [$2.99 / Free] was the first fully licensed football game available on the iPhone which was soon followed by Madden NFL 10 [$5.99], a game we got an early preview of at the Penny-Arcade Expo in Seattle. Which is the better football game was hotly debated among sports fans on our forums, with both games competing in feature wars involving multiplayer, complete NFL rosters, stat tracking, and other things only hardcore sports fans cared about. Regardless, gaming franchise staples like Madden only further legitimized the iPhone as a gaming platform.
At the end of September, Hi, How Are you [99¢ / Free] hit the App Store, a game based on the life, art, and music of Daniel Johnston. When I first played the game, I had no clue who Daniel Johnston was, or why this game was so amazingly strange. All I knew was that it had a really cool cell shaded art style, and in researching the game I became aware of everything that was Daniel Johnston. As I explained in a blog post, this completely transformed the game for me. Much like the work of Daniel Johnson, Hi, How Are You is completely off the wall, and likely one of the most under-appreciated games on the App Store. In the few emails I sent back and forth with the developer, it seemed this realization was not at all uncommon and the game's single fault is that it may just simply be too strange.
In October, Canabalt [$2.99] was released, the iPhone port of a flash game playable online for free. Our community was wholly divided amongst players who were absolutely in love with Canabalt, and others who still leave comments on front page stories and post threads in our forums upset both with the positive reception it received and its $2.99 price point. Regardless of which side of the fence you sit on, it is a remarkable feat to be among among the few iPhone games that are not only noticed, but also talked about for months following their release. Canabalt was later updated with a few new obstacles and online leaderboards– Clearly quantifying exactly how bad I am at the game compared to the rest of the world.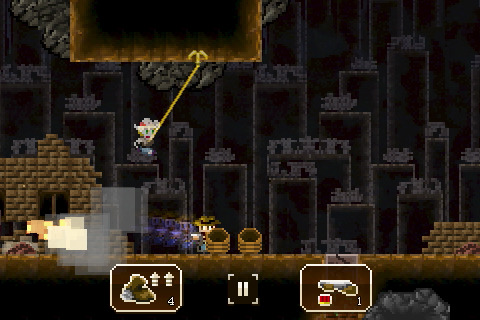 Following Canabalt came another game with similar pixelated retro graphics: Hook Champ [$2.99 / Free]. Taking a similar swinging mechanic made popular by other games and introducing RPG elements in an equipment shop where virtually everything about your character can be upgraded, Hook Champ was an instant classic. Featuring among the best and most seamless integration of online leaderboards I've seen, Hook Champ provides a silly amount of replay value as each run through a level is timed, uploaded and compared to everyone else's performance.
October also saw what seemed to be one of the most substantial announcements from Apple since the unveiling of 3GS hardware: Changes to the downloadable content system on the App Store allowing free apps to have in-app purchasing. Previously, DLC was only available to developers who sold their apps, with the intention that free apps would always be free. Aside from substantially changing the dynamic of the top 100 lists, we also speculated that lite versions could be a thing of the past as developers migrated to free demo apps which were unlocked to the full version via an in-game microtransaction. Very few games ever actually implemented this purchase model, largely in part because appearing on the top 100 free list requires exponentially more downloads than what is required to chart on the top 100 paid listings.
What this new DLC change did usher in was games like ngmoco's Eliminate [Free], a free to play game with optional in-game purchases to buy energy, a sort of virtual currency used inside of the game. Touch Pets Dogs [Free] also utilizes a similar model, as do several of the Miraphonic Epic Wars games.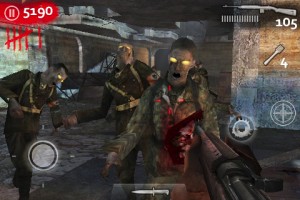 In November, Activision surprised us all with the release of Call of Duty: World at War: Zombies [$9.99], the cooperative online multiplayer enabled port of the zombie-slaying game mode from Call of Duty: World at War for home consoles– Leaving iPhone gamers wondering what could possibly come next out of the industry giant.
Wheeler's Treasure [$1.99] also hit the App Store, following a thread with beta testers absolutely raving about the game. Featuring flick controls, and a really strange game premise where you're chasing a wheel down a hill, Wheeler's Treasure is yet another example of an extremely high quality game that really could only exist on the iPhone. The developer has already implemented a few new power-ups in game based on (and named after) forum members who provided feedback, and Wheeler's Treasure joins Hook Champ as another game that has fabulously seamless online scoring, marked by headstones that appear in game based on the distance other players travelled before their wheel was destroyed.
November and December were met with a blitz of games from Gameloft, who at the start of the year went from releasing a few mediocre games to the nearly becoming undisputed king of iPhone game production. Aside from the remarkably complete port of the PlayStation/PC classic Driver [$6.99], Gameloft delivered several other games including N.O.V.A. – Near Orbit Vanguard Alliance [$6.99], a Sci-Fi first person shooter with four player online multiplayer and among the best graphics of any iPhone game released this year.
December also saw several fantastic classic games, starting off with Sword of Fargoal [$4.99], which is by far the most approachable roguelike and one of the best examples of a perfectly remade retro game. The previously released Space Ace [$4.99] was also joined by two other LaserDisc arcade classics: Cobra Command [$2.99] and Dragon's Lair [$4.99].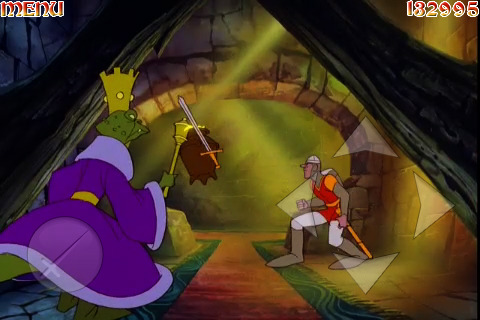 With 122,660 available apps on the App Store as of today, even this seemingly comprehensive listing of major events and releases barely even begins to scratch the surface. One could spend weeks analyzing the App Store notating the trends in sales, releases, genres, and borrowed/modified gameplay mechanics. The fact that this is even possible is amazing by itself, and when you consider that the App Store is only a year and a half old, it's hard to imagine what the year-end wrap-up of 2010 will include.
Notable things on the horizon include the Unreal Engine 3 coming to the iPhone, potentially unlocking countless ports of existing projects developed for the Unreal Engine as well as the unimaginable unannounced games from the industry leaders of the App Store. Looking at what Gameloft, ngmoco, Illusion Labs, and others have produced this year alone, it's impossible to even guess what they will have accomplished next year.
Apple seems to be updating the iPhone and iPod touch hardware on a yearly basis, and rumors are already rolling in on potential inclusions for next year's model. With the Nvidia Tegra-based Zune HD and numerous Android devices either released or due to be released soon, the iPhone's advantage currently lies in the power of its software rather than its hardware– A fantastic position to be in, especially as more apps are submitted to the iTunes App Store on a daily basis than the total number of apps available in the entire Android Marketplace. Not to mention you barely need two hands to count the number of games available for the Zune HD.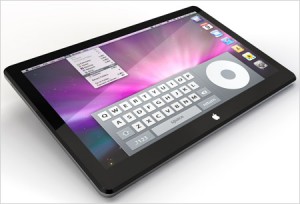 Depending on which rumors you believe, the legendary Apple tablet may also run a shared OS to the iPhone, and run the same games and apps available on the platform. If this turns out to be true, the gaming implications could be massive as a large problem with iPhone games is often how much of the screen is obscured by controls. It's still much too early to even begin to speculate what the future of the Apple tablet will hold, and you can drive yourself crazy attempting to piece together the opinions of industry insiders and analysts.
In regards to TouchArcade, we've grown substantially over 2009. At the beginning of the year Blake and Arnold were holding down the fort, I've since joined the team full time, and we've even acquired some new writers recently who are producing some fantastic reviews. At the various conventions and meetings we've attended throughout the year we've made some great friends, heard some amazing stories, and scored a lot of great previews. We've grown to just under 9 million page views a month, and since we started recording our podcast we've maintained a position in the top ten video game podcasts on iTunes. We even have some great things to come for TouchArcade, both in improving existing features of the site as well as a few top secret projects and partnerships in the works which will be revealed soon.
Our readers and excellent community are directly responsible for our success, and we'd like to thank you for your continued support. From everyone at TouchArcade, have a safe and happy holidays.