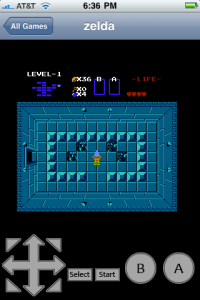 Emulation has long been the forbidden fruit that has lured many iPhone gamers in to jailbreaking. None of the emulators on Cydia that I've tried have been that impressive, providing gameplay experiences that range from poor to mediocre. But for some people (myself included to an extent), being able to just barely play The Legend of Zelda is good enough.
Nescaline [App Store] was released on to the App Store this evening by Jonathan Zdziarski, creator of NES v3 available on Cydia. Nescaline comes with a basic load out of free games, but to play the games you actually want to play you will need to point the emulator to a .nes ROM file URL. It then downloads the ROM in to the emulator, and you can play it whenever you want.
Multitouch on-screen controls make up the D-Pad and controller buttons, and as you probably could guess, the controls aren't that great. They work, but don't expect to be making your way through Battletoads or any other game that requires fast reactions or the precise controls that come from a physical controller.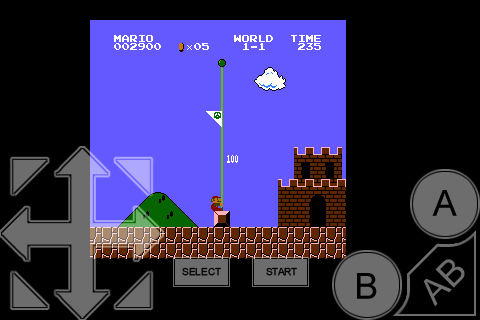 When you rotate the orientation of your phone the emulator flips from portrait to landscape, which seems to make controlling games much easier. The performance of the emulated games I've tried ranged from decent to slightly laggy on my 3GS, with some odd bugs such as musical glitches in Zelda and the title screen not displaying correctly in Super Mario Bros.
If you've been looking for a basic NES emulator for the iPhone, but haven't wanted to jailbreak, now is your chance– It's hard to say how long Nescaline will remain on the App Store, especially considering Apple's stance on emulators in the past, its questionable icon, and Nescaline's ability to both download and execute third party code that hasn't been approved by Apple.
Update: And just as fast as Nescaline appeared it was removed from the App Store. If you were lucky enough to grab it while it was available, be sure to back up the .ipa file as you won't be able to download it again until it reappears on the App Store.
App Store Link: Nescaline, $6.99