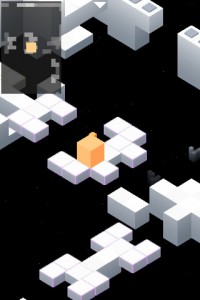 After a very long and dramatic legal battle between Mobigame and Tim Langdell over a trademark dispute over the name "Edge", the game has once again appeared on the App Store. EDGE [App Store] is a game where you control a colorful cube through a series of 3D isometric maze-like levels packed with puzzles to solve and obstacles to overcome.
Featuring both touch and accelerometer controls, EDGE requires both quick thinking and fast reactions to progress past the first few levels.
We enjoyed EDGE, and recommend picking the game up now — both because it's a great game and also in case it gets pulled again as it's unclear whether or not EDGE is here to stay. An official statement from Mobigame is said to be coming soon.
If you haven't kept up with the "Edge" dispute which has caused quite a stir on the Internet, EA recently petitioned to get the "Edge" trademark thrown out, and Langdell responded calling the petition a "desperate attempt by EA". For a complete background on the dispute, check out the summary provided by TIGSource. Needless to say, the whole situation is unfortunate, and it's sad to see such a great iPhone game caught in the legal crossfire.
App Store Link: EDGE, $4.99