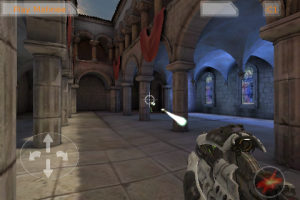 AnandTech got a sneak peek at an impressive Unreal Engine 3 tech demo running on a 3rd generation iPod touch last week, and with plans to make this engine available to existing licensees at some point in the future, Epic could drastically change the landscape of 3D games on the platform.
Unreal Engine 3 is what powers games like Bioshock, Gears of War, Borderlands, and obviously Unreal Tournament 3 among others. A mobile version of their game engine will make it easy for developers who rely on this technology in the PC/console space to compete on the App Store. The game engine only runs on 3rd generation hardware and obviously future iPod touch and iPhone devices that will also likely be capable of OpenGL ES 2.0.
Here is a brief video showing the performance of the engine in an Unreal Tournament map:
It's unclear exactly when this will be released in to the wild for existing Unreal Engine 3 licensees to start experimenting with, but apparently we will be seeing the engine running on another platform at CES which takes place in Las Vegas from the 7th to the 10th of January.