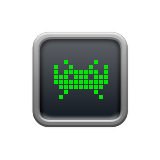 It seemed to make more sense this month to do our ratings a little earlier than usual to make room for our upcoming best of 2009 articles. With the pre-holiday release rush we've seen, it seems unlikely that there are going to be that many more games coming out this month especially with the iTunes connect holiday downtime– But any games released after this post will be included in January's ratings.
Our final scores are not the product of any traditionally objective measures such as graphics or sound, but simply reflect the games we would most recommend to others.
December was a huge month for some great iPhone game releases, this month's "Best iPhone Games" are highlighted here:
5 Stars


Need For Speed: Shift – Racing games seem to be a natural fit to the tilt controls of the iPhone and EA's latest entry in to the genre can easily stand next to the best racing games on the platform in terms of the amount of included licensed materials, different game modes, and overall fun-factor. With control settings and driving assist options that range from the game practically playing itself to a competent racing simulation complete with a manual transmission mode, Need For Speed: Shift is a must-have for any fan of racing games. (Review, App Store)


N.O.V.A. – Near Orbit Vanguard Alliance – Drawing inspiration from Sci-Fi console classics, NOVA is a surprisingly complete and full featured iPhone first person shooter. With an epic single player campaign that will take you several hours to complete, graphics which are among the best currently available on the platform, and four player online deathmatch modes, NOVA has successfully lived up to the insane amount of pre-release hype. (Review, App Store)


Sword of Fargoal – By far the most approachable roguelike, Sword of Fargoal is a classic dungeon crawler with randomly generated levels which provide nearly infinite replay value. Aside from being a fantastic game, Sword of Fargoal also serves as an excellent example of how retro ports should be done. The iPhone version preserves the look and feel of the original while adding new OpenGL effects and other modern graphical flare. If you've never played a roguelike before, Sword of Fargoal is a great introduction to the genre. (Review, App Store)
4.5 Stars

Labyrinth 2 – The sequel to the game that pioneered the marble rolling genre on the iPhone before the App Store even existed, Labyrinth 2 takes the standard wooden labyrinth game and adds even more obstacles, fantastic 3D graphics, and a full featured online level editor. The user created content community has already exploded and you can load up Labyrinth 2 every day and have a new batch of levels to play through, all of which download almost instantly inside of the game. (Review, App Store)


PAC-MAN Championship Edition – Developed by the original Pac-Man designer, Tōru Iwatani, Pac-Man Championship Edition succeeds in breathing new life in to this arcade classic. With great controls, colorful graphics, and fast-paced game modes, Pac-Man Championship Edition is by far the best Pac-Man game on the platform. (Review, App Store)


Driver – An excellent port of the PlayStation/PC game, Driver includes all of the content of the original with updated graphics and an iPhone-friendly interface. Players complete missions in four full in-game cities and on top of that there are additional game modes that are just as fun as the single player campaign. (Review, App Store)
The rest of December game ratings can be seen in their respective rating categories (also found in the sidebar navigation): 5 Stars, 4.5 Stars, 4 Stars, 3.5 Stars, 3 Stars, and 2.5 Stars.
As always, we expect there will be some debate about relative scores, but keep in mind that everyone's personal ratings may vary based on individual tastes.