Hello everyone, and welcome to another edition of our weekly Hearthstone (Free) news round-up, the one-stop shop for all your Hearthstone news of the week. This week we have devs talking about the game and its issues, the developers as Hearthstone cards (this one's pretty funny), a profile of the top ladder player, Fibonacci, some ideas on how to balance broken cards, the top decklists of the week, some tournament news, a report of where the meta stands at the moment, and much more. Hearthstone is doing fine at the moment, but I can already sense the community itching for more content. I wonder what the next expansion will bring and what lessons the development team took from the success of League of Explorers.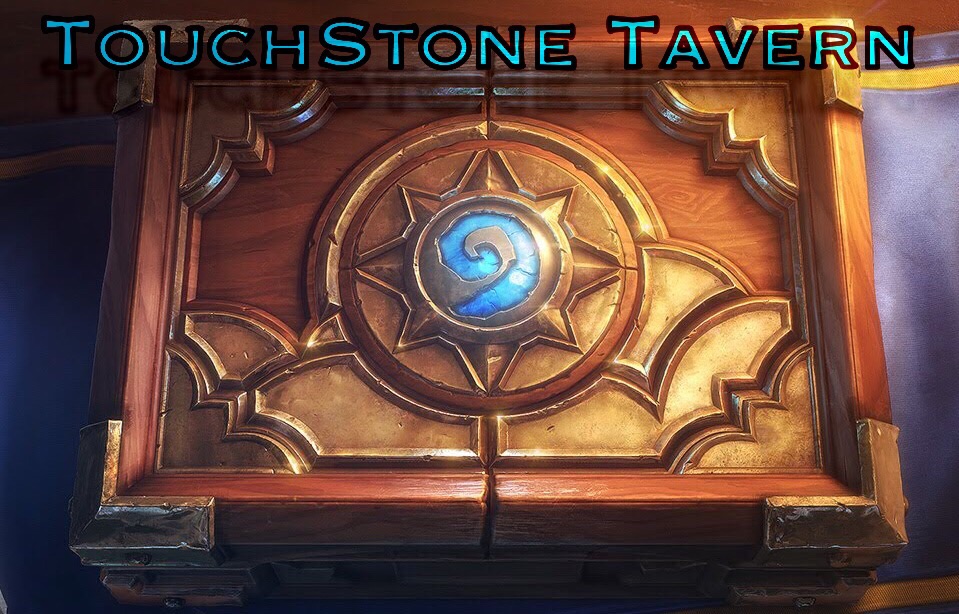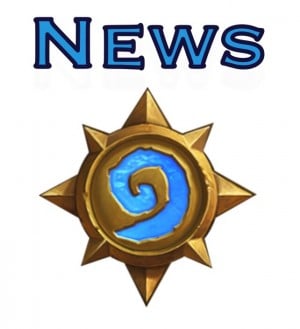 Ben Brode and Dean Ayala Talk Discover Mechanic
Discover has been described by most players as a great mechanic that hit the right spot between RNG and tactical play. Recently, designers Brode and Ayala described the rationale behind this mechanic, and some interesting tidbits came out of the interview. Discover was originally known as "Treasure" and, as we've talked about in the past, the Discover LoE cards came before the Captain Blackheart's Treasure Tavern Brawl slight debacle. Discover cards were limited to class cards and neutrals so players could have a better idea of what cards could pop out, but this idea wasn't always part of the design. Actually, one of the last changes Blizzard made to the mechanic was increasing the likelihood of drawing a class rather than a neutral card, a move that helped make each class more unique within the context of Discover. If you want to read the whole interview, go here.
Hearthstone's Devs as Cards
Hearthhead put together some of the Developer custom cards that were part of the game when it first launched (although just in the credits) and are still in the game's files. As you can see here, some of the cards are really funny (like Max Ma's card that makes the game playable only on mobile devices) and some are outright broken. Imagine if you had to play against a dev deck…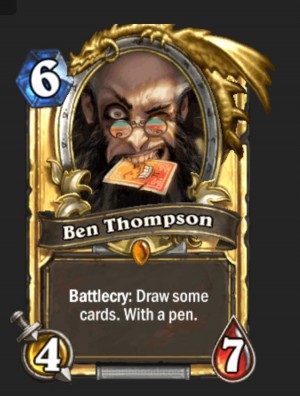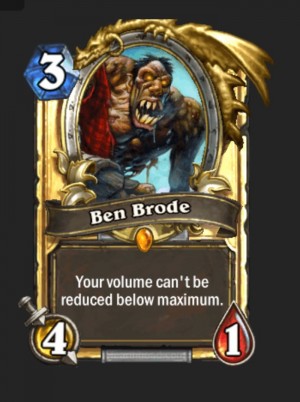 Spotlight on Ranked Player Fibonacci
22-year old Fibonacci achieved Rank Legend #1 in December, so Blizzard decided to showcase him and his achievements. He's a Control Warrior specialist who's achieved #1 two more times last year and also got two other top 10 finishes. Players see him as a very strong ladder player who's not very familiar to the broader player base because he doesn't stream and hasn't played in many broadcasted tournaments. In the interview, he talks about how he's been playing constructed since January 2014. He started playing arena to craft the cards needed to construct Reynad's Face Warrior and then gradually turned the deck into a control deck.

During each season, he scouts various metas to tech his decks accordingly and then playtests them to pick a deck that has a decent win-rate against that specific meta. He then uses that deck on the last day of the season to reach the top of the ladder. In December he used Control Warrior and Malygos Freeze Mage. His goal this year is to qualify for BlizzCon and start streaming, so hopefully we'll be seeing more of him. Read the whole interview here.
Animated Armor was Neutral and More Tweets of the Week
HearthHead once more pulled together interesting dev tweets from this week, and we got some interesting insights into the design process. For instance, when a card is shuffled into the deck, it actually reshuffles the whole deck. Animated Armor used to be neutral, but it was too OP in some combinations so they did away with that idea. Interestingly, Brode said how they are considering ways to allow players to get card backs that they've missed, which I would like quite a bit. Arena classes came into the discussion too as many consider Paladin and Mage OP in Arena at the moment. Dean Ayala said that it's hard to fix that without drastic changes, but players shouldn't put money on Mage and Paladin being Arena overlords forever. Go here to read the rest of the tweets of the week.
@b3av3r1 don't have any details to share now, but I wouldn't put money on paladin and mage being arena overlords forever :).

— August Dean Ayala (@IksarHS) January 17, 2016
Noxious Attempts to Balance Some Broken Cards
Everyone agrees that Hearthstone has some broken cards, but not everyone agrees on which cards those are other than the few usual suspects. Caster Noxious decided to take a look at many overpowered and underperforming cards and see whether he could make them more "balanced." Cards like Innervate, Knife Juggler, Mysterious Challenger, Dr. Boom, and more get the "balanced" treatment, and the results are very interesting. Knife Juggler, for instance, only deals damage when the player plays rather than summon a minion. Mysterious Challenger can only summon up to 3 Secrets into the battlefield while a card like Piloted Shredder keeps its effect but has one less health. Go here to check out the whole list. Do you agree with the nerfs/buffs or do you have a better idea on how to go about it?
Top Decklists of the Week
If you want to know what decks did best this week, HearthHead has a great list for you. Kolento is again on the top of the expensive pro decklists with his Idol Ramp Druid followed by Ostkaka's 2015 World Champion Freeze Mage, Fibonacci's Control Warrior, Reynad's Mech Warrior and more. On the community decklist side, there are plenty of cheap decks that range from Control Warrior to Hunter and Murloc decks. Go here if you want to check out all the decks and do some quality netdecking.
Hearthstone World Championship Standings
Blizzard has updated the 2016 HWC standings, and Purple is leading in the Americas, Ersee leads in Europe with Neirea and ThijsNL second and third, and Tansoku leads Asia Pacific. Go here if you want to see all the players with HWC points per region.

Kibler Makes Hunter Less Face and More Midrange
If you don't want to be part of the most-hated group in Hearthstone (AKA Face Hunter players), you can play Kibler's Midrange Hunter instead. The deck comes with Secrets like Bear Trap and Snake Trap, the oft-used Haunter Creeper, Knife Juggler, and Mad Scientist, along with Piloted Shredder, Loatheb and Ram Wrangler. The deck looks like a fun Hunter deck without all the Aggro in it. Check it out below and check the GosuGamers analysis of it here.
We Have New Hearthstone Commentators
If you've been watching Hearthstone tournaments, you're used to seeing and hearing the same casters like Frodan and Savjz. Now, we are going to get some new voices into the mix after the "So you think you can cast" contest yielded six new casters who will join the seasoned ones for the upcoming Winter Preliminaries. The new voices and faces are Simon "Sottle" Welch, Nick "Aquablad" Secker, and Alex "Raven" Baguley, along with Daniel "DTwo" Ikuta, Cora "Songbird" Georgiou and Kevin "Odinn" Hovdestad. Happy to be having new people behind the casting desks?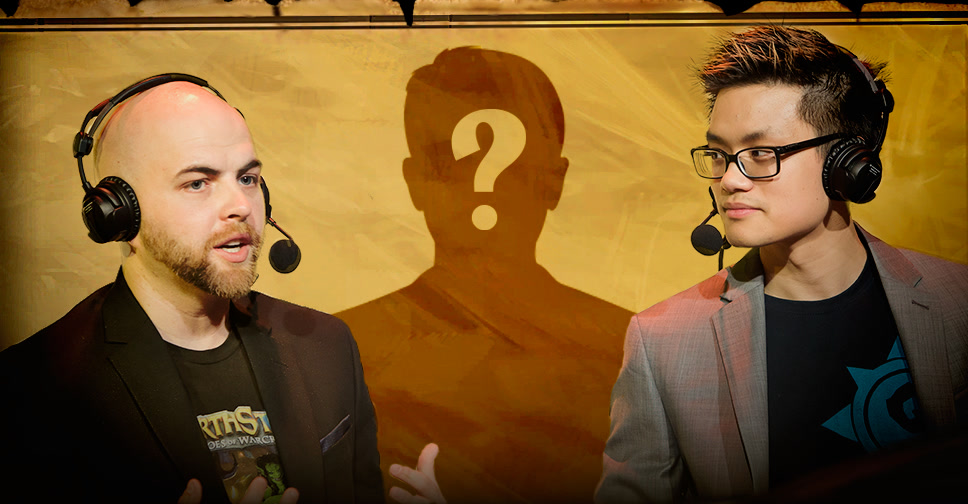 Hearthstone's Growing Pains
Hearthstone has exploded in popularity in the last year and a bit, but as this ESPN article discusses, that growth has created its own issues. The rapid and quite unexpected growth of the game led to Blizzard increasing the size of the team and taking Hearthstone's development more seriously. However, this growth brought about its own issues, first among them the amount of RNG on the cards. While Hearthstone developers have stated repeatedly that randomness and skill aren't mutually exclusive, many often mock the esports aspect of the game since they see the whole game as simply too random to be competitive. Discover was introduced in an attempt to hit the sweet spot between skill and randomness, and so far players see it as a sign that Hearthstone is on the right path.
According to the article, the problem with randomness becomes more apparent because of the tournament format where the competitors often play best-of-5 series. That number of games is quite a small sample size for a game with such degree of probability and can often end up with skewed tournament results. The other problems the article sees is the increasingly-high barrier of entry for new players because of all the new card additions and the proliferation of bots. What do you think about these issues? Do you agree that these are the game's major issues, or are their bigger ones that the article ignored?
This Week's Tavern Brawl Was Captain Blackheart's Treasure
We got another repeat Brawl this week, with Captain Blackheart bringing around his Discover ship for another run at our treasures. This Brawl was originally supposed to come out before the release of LoE to tease about the upcoming Discover mechanic, but the client couldn't take the weight of the responsibility. The Brawl was all about the Discover mechanic as you got to pick one out of three cards every single turn. While that mechanic made gameplay a bit on the slow side, the Brawl was still entertaining.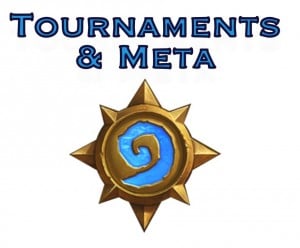 Orange Wins DreamHack Leipzig
Jon "Orange" Westberg has just won his third LAN title and fourth title overall, continuing his road towards becoming one of the most respectable players. This past weekend he won DreamHack Leipzig in impressive fashion beating Lifecoach, Xixo, MrYagut and SuperJJ in the final with a final score of 9-2. Not a bad tournament for a player who's finding his stride.
Orange, Powder, Vortex Headline Invites for the Assembly Tournament
Hearthstone will once more be at the Helsinki Convention Center as part of the Assembly Winter 2016 (Feb. 5-6). The tournament has a relatively-low prize of 3,000 Euro and has 8 qualified and 8 invited players. The invited players include the likes of Orange (who's on a tear recently), Powder, Spo, and Vortex. Should be an entertaining tournament which gives you the opportunity to see players other than the usual suspects who seem to pop up at every tournament.
Blizzard Will Host Sanctioned Tournaments at Fireside Gatherings
One of the things I've yet to do is go to a Fireside Gathering (geographical issues), but it's definitely on my to-do list because it's one thing playing the game by yourself and another socializing while doing it. Now, Blizzard has decided to sanction a number of tournaments at Fireside Gatherings throughout January and February at select locations. The champion of each of those tournaments will be named Tavern Hero and will earn a slot at the Hearthstone 2016 Americas Winter Preliminaries. At the Preliminaries, they will compete alongside the 128 players who have earned slots in the prelims via the standard point system. The first two of those tournaments have come and gone, but there are still plenty to come. Check out the dates/locations here.
Meta Report
The meta hasn't changed too much this week, with minor movement in the lower tiers and the usual suspects in Tier 1. Renolock, Mid-Range Druid, Secret Paladin, and Freeze Mage hold the top four spots, with Freeze Mage occupying the spot only because Control Warrior – its nemesis – isn't too popular due to how bad a matchup it is with Mid-Range Druid and Secret Paladin. In Tier 2, Murloc Paladin isn't just a meme anymore but a legitimate deck, although the Tempo Storm Snapshot writers don't expect it to continue rising through the tiers. Hunter continues its break from the top tiers, but every other class is present.
One issue, though, is that although we have all kinds of classes present in Tier 1 and 2, Paladin decks seem to rule in terms of how often you'll find them on ladder, which makes for a ladder that feels a bit too monotonous. I know I'm part of the problem with my Murloc Paladin, but hey, Anyfin Can Happen. Go here to check out all the Tiers and find the right deck for you.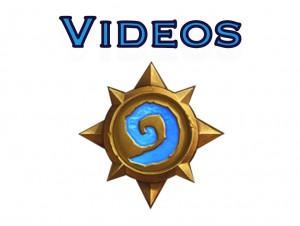 Hearthstone Mix Vol. 1
Funny and Lucky Moments #147
Best Moments #22
Epic Plays #97
Why Shaman is a Failed Class
Best of Thoughsteal
Top 5 Bluffs
Drafting Drunk
Reynad's How to Get Good
RNG Salt
Facing Rank 10 Legend
Positioning Matter
Hearthstone Main Theme Cover
Epic Tournament Lethal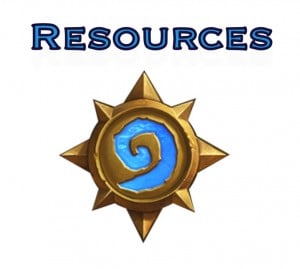 As always, we have some good resources on the site for you in case you are new to the game or simply want to sharpen up your game. There's never such a thing as too much help in Hearthstone.
Hearthstone Deck-building Guide
League of Explorers Wing 1 Guide
League of Explorers Wing 1 FTP Guide
League of Explorers Wing 2 Guide
League of Explorers Wing 2 FTP Guide
League of Explorers Wing 3 Guide
League of Explorers Wing 3 FTP Guide
League of Explorers Wing 4 Guide
League of Explorers Wing 4 FTP Guide