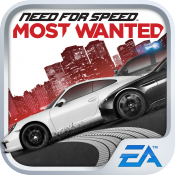 Racing games are one of the oldest genres to be digitized into video games, and they make a great fit for a mobile or handheld device. That rings especially true with iOS devices which come equipped with gyroscopes that feel incredibly natural as faux steering wheels during an intense race.
This year it went beyond that though, as traditional racing games were rethought from the ground up for an experience that can be picked up at pretty much any time when you have a few minutes to kill. Some games even take the connectivity of our devices in interesting directions by allowing us to race against friends and strangers worldwide to see who is the most proficient racer around.
Looking forward to next year, Real Racing 3 looks to take that even further with something they're calling "time-shifted" multiplayer. It's something that resembles racing a ghost time but if that ghost had an advanced AI that would react to your own decisions in real-time.
It'll be interesting to see how that shakes out, but for now let's look back at the wide variety of different kinds of racing titles that made an impact on iOS in 2012.
Need for Speedâ"¢ Most Wanted, $4.99 – [Review] – [Forum Thread] – While definitely a more streamlined, mobile-friendly version of the console game of the same name, Most Wanted brought a high-end feel in a small package. Not just a pretty face though, it also featured solid racing and some of the most exhilarating moments of any game this year.
Reckless Racing 2, $1.99 – [Review] – [Forum Thread] – The original Reckless Racing brought an over-the-top arcade racer to iOS that was tons of fun but felt rough around the edges and like it could have been more. The sequel kept the core of what made the first game great while toning down the over-the-top nature a bit and expanding it with a more fleshed-out racing experience. Reckless Racing 2 feels like a grown-up version of the original, and is one of the best top-down racers around.
Slingshot Racing, $0.99 – [Review] – [Forum Thread] – Somehow Snowbolt Interactive found a way to take all of the things that are great about playing a racing game and make it work with a simple one-touch control scheme. Searching for the best racing line and replaying tracks over and over to shave seconds off your time became an obsession for me, just like a traditional racing game, but doing it by launching a hookshot out to grapple and swing my vehicle around each corner made it one of the more unique racing experiences I've had.
Sky Gnomes, Free – [Review] – [Forum Thread] – While it sure doesn't look like a racing game, Sky Gnomes brought a fresh approach to competitive racing on mobile. A brilliant online leaderboard and tournament system meant that hopping into the game to take on the top times became a daily habit. A wide breadth of characters and specialty items added variety to the experience, and simple one-hand controls made Sky Gnomes a joy to play on a mobile device.
Mad Skills BMX, $0.99 – [Review] – [TA Plays] – [Forum Thread] – Turborilla took everything they learned from 2011's Mad Skills Motocross and applied it to the world of BMX in Mad Skills BMX. The first big improvement is an intuitive touchscreen control system that takes advantage of gestures and swipes rather than virtual buttons. With impeccably designed tracks it was a blast trying to achieve a perfect run and shave fractions of a second off your best score.