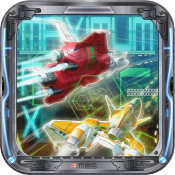 Scrolling shoot 'em ups, or shmups if you're lazy, have found a happy home on iOS devices. The tall screens are a perfect place for the action to unfold, and it's one of the few genres that actually feels at least as good or better on a touchscreen rather than with physical controls. At least in terms of controlling your ship, as something is definitely lost without a set of arcade buttons to smash away at with their satisfying clicks, but I digress.
In this arena, Cave dominates with excellent ports of their wide selection of arcade titles that feel awesome on iOS. In fact, it's somewhat telling how good the platform is for shooters that the majority of this list is made up of ports, as there's a huge selection of back titles that could find new life on iOS.
However, there are a couple of new titles here that continue to push the genre forward, and more importantly are built form the ground up with mobile in mind making them great games to tote around in your pocket. Enjoy this list of both old and new titles that hit in 2012 that put the frenetic shoot 'em up experience in the palm of our hands.
DODONPACHI MAXIMUM, $3.99 – / (Free) – [Forum Thread] – Cave's brand new designed for mobile shooter hit Windows phones exclusively earlier in the year, but thankfully came to iOS in the fall. It used the pretty cool theme of being a "bullet hell simulator" which through you into various virtual combat situations against a variety of enemies from previous Cave shooters. Because it wasn't a port, it was the best looking Cave game to date and felt perfectly at home on the platform.
DoDonPachi Blissful Death, $2.99 / (Free) – [Review] – [Forum Thread] – A prequel to the fantastic Dodonpachi Resurrection, Blissful Death offered yet another solid shooter from the folks at Cave. It was slightly less complex scoring-wise than its follow-up, but it had its own set of strategies and hidden tactics to discover that didn't diminish the experience one bit. In fact, its more simplistic nature might make this one of the better entries to get yourself familiar with Cave's brand of shooter.
Bug Princess 2 Black Label, $13.99 / (Free) – [Forum Thread] – One of the cool things about Cave is how they often release special "Black Label" versions of their games, which typically offer tweaked scoring and game modes and a remixed experience from the original. A couple of months prior, we really liked the original release of Bug Princess 2 and the new Black Label version didn't fail to live up to our expectations either.
DoDonPachi Resurrection HD, $5.99 / (Free) – [Forum Thread] – This year I was elated to have my absolute favorite Cave game re-released with Universal iPad support as well as many completely redrawn assets in order to bring it up to speed with the high-res screen of iOS devices. It truly felt like experiencing the original game all over again. Now, if we could get some more of their titles to get a similar treatment, and iPhone 5 widescreen support, I'd really be in heaven. Whaddaya say, Cave?
DARIUSBURST SP, $3.99 – [Forum Thread] – In 2009 Taito resurrected their classic Darius series with a brand new entry in the series on the PSP. It featured impressive 3D graphics and side-scrolling action that harkened back to the originals while still feeling fresh and new. This year a port of the PSP version came to iOS in a big way, and aside from boasting some of the best visuals on iOS it also through a ton of imaginative enemies and gigantic bosses into the mix.
BLAZING STAR, $0.99 – [Review] – [Forum Thread] – Oh, look. Another port! That's ok though, as the original release of Blazing Star on the NeoGeo system back in the '90s was likely not experienced by very many people. Now on iOS it has the ability to find an entirely new audience, as well as allow original fans to relive the title on the go. A future update addressed pretty much all of our concerns from our review, making Blazing Star a top choice for shooters on the App Store this year.
Raiden Legacy, $4.99 – [Forum Thread] – The Raiden series was one of my favorites growing up, and I always wondered why it hadn't show up on iOS. This year we finally got it though, as the original Raiden joined 3 other games in a compilation package. The original game still holds up today, but the Raiden Fighters games are ones I never got a chance to play and surprised me with how fantastic they are. If we can get Raiden II and Raiden DX in a future compilation, I'll be set for life.