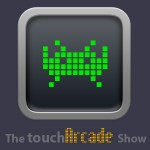 In this week's episode of The TouchArcade Show, the cast and crew discuss the usual —- cats, dogs, muscles, and movies from the mid-to-late 1980s. But we also decide to do our duty and talk about the latest and greatest of this week's news and games. Specifically, we spit a little game about Sid Meier's Pirates!, Lodsys' latest lawsuits, Cat Dance Party, and the most recent cloning fiasco to hit the App Store.
We're really pumped about this episode, so we hope you like it, too. As usual, you can grab the podcast just below via direct download or streaming. Additionally, you can check us out on the Zune Marketplace and iTunes if you want to subscribe to our pods.
iTunes Link: The TouchArcade Show
Zune Marketplace: TouchArcade.com Podcasts
RSS Feed: The TouchArcade Show
Direct Link: TouchArcadeShow-009.mp3, 47MB
Of course, we do hit a lot more than I mentioned in the opening there. Here are this week's show notes with the relevant links to the articles / games we discussed. Go nuts and, hey, have a great weekend. We'll be back next Friday for another episode.
GAMES
FRONT PAGE
Music, as usual, is provided as always by the talented Jim Guthrie. Specifically, we ripped the opening track of "Audio Pepsi," one song in an album he's selling. Check it out over here if you'd like to stream it or buy it.