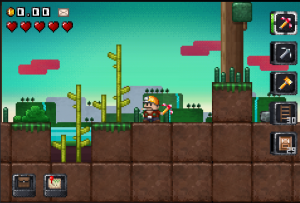 Junk Jack is the latest super ambitious and super promising independent game to catch our all-seeing eye. At its core, it's an adventure-ish game that borrows a lot from another indie darling, Minecraft. It also seems to draw from its side-scrolling cousin Terraria. In it, you'll be tasked with gathering materials and putting them together, but mostly, you'll be left to your own devices to explore and survive inside a world filled with treasure, Red Bull, and whatever else the two-man team, Pixbits, decides to drop into it.
Inarguably, Junk Jack is derivative of Mojang's and Re-Logic's respective titles, but I think you'll be surprised when you hear that the team didn't even know about Terraria when the game and it's iconic smoking miner, Jack, were initially sketched out. Since then, the team has embraced that work and has allowed it to inform development.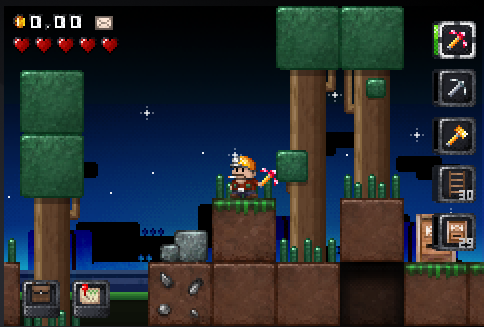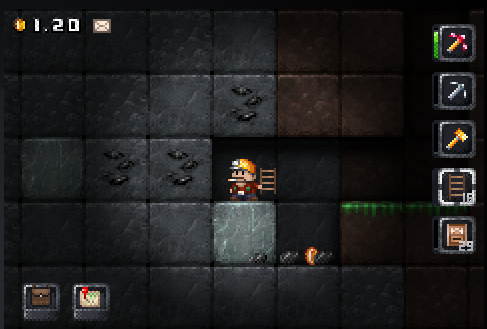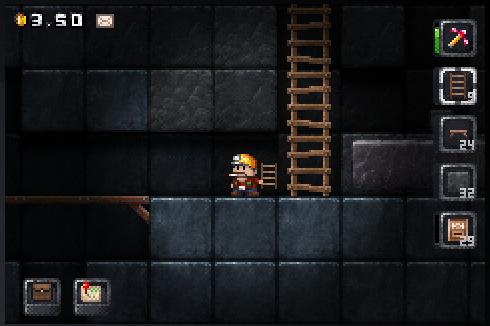 "…we tried to get some inspirations without being too trivial," Pixbits told us in a recent e-mail exchange. "When you develop for the iPhone you have to think about the fact that everything goes in a different way compared to a normal desktop game, controls are different, game experience is different, and also the time pattern you spend while gaming is different, so our focus in this regard was to develop a slick and fun gameplay, while maintaining the sandbox experience that users love and that we all know."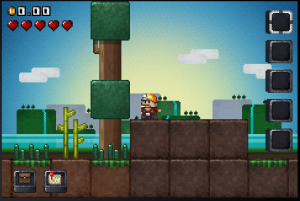 "We don't want to go beyond, since we really both respect Minecraft and Terraria (we play together to both of them), we just like to offer a similar gameplay experience to entertain with when you are not at home."
Junk Jack is being developed with procedurally generated worlds in mind, and so a good chunk of time is being spent in the actual coding to ensure a smooth experience. The final world size hasn't been decided quite yet, but you'll get three different save files for three different worlds, none of which will trade usability in exchange for size.
Games like Minecraft typically lack structure, and that's something Pixbits wants to provide in its open-world, exploration, and crafting game.
"We can say that the main goal of Junk Jack is to explore, craft and survive inside a procedural generated world full of features that we plan to add constantly. We were unsatisfied with the 'only-sandbox' approach, just because we felt that an iPhone game should give players secondary tasks to entertain themselves.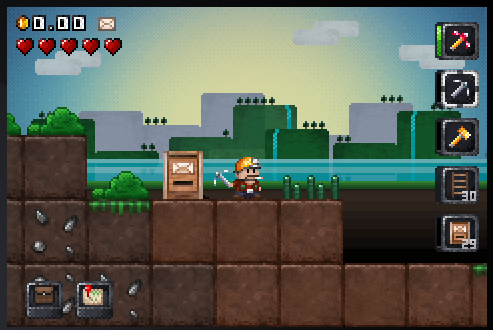 "That's why, for example, we have implemented a simple yet effective mail system that allows the player to craft his own mailbox and use it to accept fun quests asked from various people which need to retrieve their lost items, providing rewards in exchange."
Pixbits tells us that the mailbox is just the beginning of some sort of quest line — the studio will continue to add tasks and give people something to do inside their respective worlds. Also, the studio will be looking to fans for ideas for future updates. To hear Pixbits tell it, users will have an actual stake in the game and will guide their hands after release.
Junk Jack is planned to hit at some point this September. The version you're seeing here is strictly for the iPhone and iPod Touch, but an iPad version isn't out of the question. It's just not on the docket at the moment.