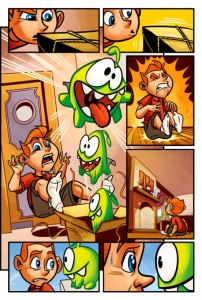 Back in February last year, details of a Pocket God comic emerged and we raised our collective eyebrows and said, "A comic book based on an iPhone game?" Well, it seems that the Pocket God Comics [99¢] has been thriving, or, as close to thriving as an indie comic book series can be, over the last year. There's a bunch of issues now, both available in paper as well as IAP via the app, and it's actually been fun to watch how they've transformed what originally amounted to a simple sandbox game to a plot-driven comic book.
According to news fresh out of Comic Con, Zepto Labs' Cut the Rope [99¢] is going to be the next iOS game to make the jump from the small screen to the… Well, I guess the digital comic will be on the small screen too. Anyway, a digital comic is in the works which will explore Om Nom's (the cute green critter) back story. It also sounds like other characters will be introduced, which will be making their appearance in future iterations of Cut the Rope.
I've always thought it's really neat to see popular IP expanded out to other mediums, and it seems like digital comics make a lot of sense, especially with lovable characters like Om Nom and the Pocket God pygmies. If nothing else, this is just a indicator that Ape Entertainment is serious about turning iOS titles into digital comics, which really makes me wonder what titles are next. I think a Space Miner [$2.99] comic could work really well, and a Canabalt [$2.99] comic where they explore what the hell is happening that has resulted in you breaking through a window running across rooftops would be rad as well.