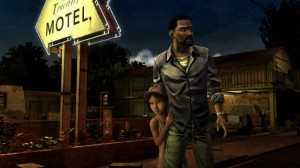 Telltale Games hasn't been too forthcoming with information on The Walking Dead, its in-the-works adventure game series based on the popular zombie-horror comic book series of the same name. At Comic-Con earlier last week, however, the studio blasted out the first in-engine screenshot of the game.
Specifically, this image shows the escaped prisoner Everett Lee alongside a little girl named Sophie outside a hotel that looks like it's seen better days. Hopefully it has, since you know, the world of The Walking Dead is crawling with zombies, other dead things, and demented people.
One thing to keep in mind here is that while the AMC series might have some sort of impact or influence on the overall design, this product isn't going to tell the same story. Heck, it's not even going to linger on Rick Grimes. Instead, it'll revolve around Everett after a police escort lets him go in Atlanta during a zombie attack.
We're not sure which version of the upcoming title is being used for this screenshot. Logic says its the PC considering the detail here, so temper your expectations for the handheld and mobile ports coming down the pipe when the first episode hits much later this 2011.
[Via MTV Multiplayer]