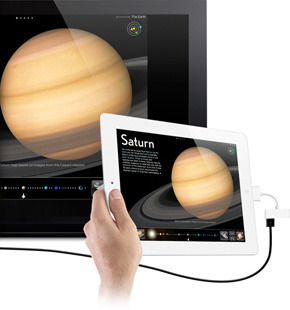 Earlier this morning we posted news that Firemint would soon be bringing an update to Real Racing 2 HD [App Store], with support for full-screen 1080p video-out on the iPad 2. This news got us wondering about the overall situation that the iPad 2 and it's new PowerVR SGX543MP2 graphics processor(s) present to existing games that already utilize TV-out by way of Apple's earlier component and VGA video cables for iOS devices.
I chatted up Keith Shepherd of Imangi, author of Max Adventure [App Store], which has supported TV-out via the aforementioned cables for some time now, to see what he thought the iPad 2's 1080p capability means for existing titles. While he hadn't tested Max on an iPad 2 personally, he felt it likely that the newly supported resolution should be there among those presented to an application by iOS, and therefore presented as an option in his game.
And, he was right.
With an iPad 2 connected to a 1080p HDTV by way of the Apple Digital AV Adapter (the HDMI cable), I fired up Max Adventure to see how it runs on the new hardware. Max, which supported a maximum resolution of 1280×720 on all previous devices, presents the option to run at a full 1920×1080 on the iPad 2. And, when chosen, the game runs beautifully in full 1080p.
I also loaded up MajicJungle's Chopper 2 [App Store], which has supported TV-out since day one, and noted that it runs in full 1080p on the iPad 2, where it, too, was previously limited to 720p.
It's great news that existing apps like these got an automatic upgrade courtesy of Apple and Imagination Technologies.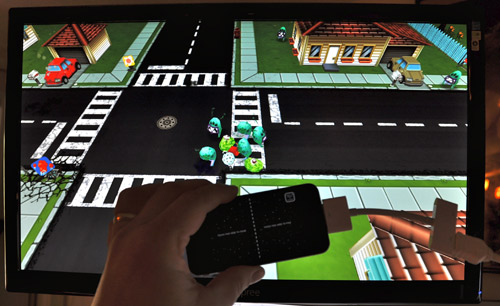 Since I was caught up in waving around my HDMI cable, I decided to try it out on the iPhone 4 running iOS 4.3, which we already knew supports TV-out via the component and VGA cables. I loaded up Max Adventure and my HDTV lit right up, with full audio and video coming through just fine, but at a maximum resolution of 1280×720 due to limitations of the device's earlier generation graphics chipset. Still, this is great news, as HDMI delivers a nice, clean digital signal while the VGA and component cables provide analog output only (and lack audio information).
Speaking of those older cables, a quick look at Apple's website indicates that the VGA cable will also deliver 1080p video when used with the iPad 2, but that the component cable is limited to a maximum of 576p on recent devices and just 576i on older hardware.
Our earlier iPad 2 HDMI-out demo video can be seen here.