Yesterday we made a post listing several titles that have gone on sale for a limited time. We wanted to pass along a heads-up on a few more sales and price drops for titles we think readers may enjoy.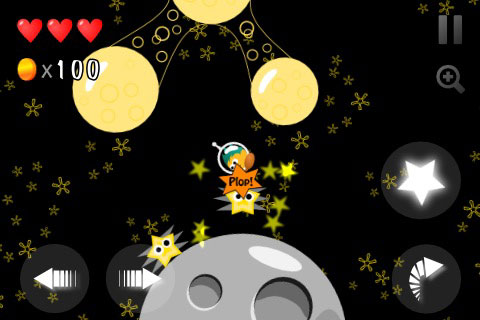 Soosiz, Free Ahh, Soosiz. [ review ] Touch Foo's rotational 2D platformer is one of our very favorite iPhone games, and is one of the first titles to which we gave a five-star rating. Soosiz is a stylized cartoonish platformer that challenges your brain to keep up with all of its twists, turns, and inversions. It's incredibly well executed with excellent controls, has a ton of content and is a lot of fun. And it's free this weekend (regularly $1.99). There's no excuse for missing this one.
Need For Speedâ"¢ Undercover, $2.99 [ review ] Electronic Arts' Need for Speed Undercover (down from $4.99 for a limited time) is the studio's first iPhone release in their long-running racer series. It's a mission-based racer (as opposed to the "'round the track" variety) that puts you in the role of an undercover wheel man infiltrating a series of street racer / chop-shop gangs to try and bust an auto theft ring wide open. It's a very well-done title that, at the time of its release, was perhaps the most visually impressive game on the platform.
ROCK BAND, $4.99 [ review ] EA's Rock Band, which recently hit the 2000 downloadable song mark, is one of the most immersive rhythm games in the App Store. The game sets you behind a guitar, bass, or drum kit, or lets you take the lead vocals in playing through any of the myriad songs available through its in-game song store. The game features 32 free songs and offers Facebook integration to help jam with your friends. Rock Band is, for a limited time, down from $6.99.
Rogue Touch, $2.99 [ review ] ChronoSoft's Rogue Touch (normally $2.99) is an iPhone adaptation of Rogue, the classic dungeon crawler that dates back to 1980. It's highly faithful to the feel and mechanics of the well-loved early platform releases, but has expanded the game nicely. It's my personal favorite iPhone dungeon crawler and is one of our long-time favorites here at Touch Arcade.
Worms HD, $1.99 [ review (iPhone ver) ] First there was Worms for the iPhone [ link ], then came Worms HD for the iPad. Well, actually, first there was the Worms for the Amiga, which Team 17 released back in 1995. Whichever way you look at it, it's classic turn-based artillery action in the Scorched Earth vein. And the iPad version has been reduced in price, from $4.99.
2XL TROPHYLITE Rally, $4.99 [ post ] 2XL Games' 2XL TROPHYLITE Rally (down from $4.99) is a highly impressive looking desert rally racer featuring 15 different races, WiFi and Bluetooth multiplayer, multiple vehicle views, five control schemes, and leaderboards. The iPad version has also been reduced in price ( $7.99 down to $.99 ).
Enigmo, $1.99 Pangea is running a sale on all of its multiplayer titles, physics puzzler Enigmo (down from $2.99) being one of the three games affected. Starting its life as a Mac game, Enigmo is a physics puzzle game that was voted Best iPhone Game at WWDC in 2008. In the game you move various objects around the game board to direct water droplets to their destination. Levels start easy and get so hard you will be desperately searching Google for the solution.
Nanosaur 2, $3.99 Another Pangea multiplayer title on sale is Nanosaur 2 (down from $2.99). Also starting as a Mac game, Nanosaur 2 was ported to the iPhone in late 2008. It hasn't aged very well compared to Pangea's other games, but the premise of piloting a massive dinosaur from the future who is equipped with a massive arsenal of weaponry couldn't get much more ridiculous and/or awesome.
Cro-Mag Rally, $1.99 [ review ] One of the early iPhone cart racers, Pangea's Cro-Mag Rally (down from $2.99) won the 2008 Best App Ever Award for Best Racing Game. Cro-Mag Rally puts you behind the wheel of a caveman's cart in a bid to cross the finish line first through nine different race tracks, using 11 different vehicles with nine types of power-ups there to help you. The multiplayer system was recently entirely rewritten to ease the auto-matching game process.