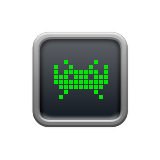 Our April game ratings are in place now, and here are the top of the heap. Our monthly "best of" round-up summarizes the top rated games that we looked at in the previous month. Each game reviewed receives a 1-5 star rating relative to the other games from that month. Generally, a 3 or higher is considered a "good" rating.
Our final scores are not the product of any traditional measures such as graphics or sound, but simply reflect the games we would most recommend to others.
5 Stars

Chaos Rings – One of the most ambitious RPG games we've seen so far for the iPhone. The graphics and gameplay are exactly what you'd expect out of a Square Enix RPG. Battle in parties of two in classic turn-based battles as you make your way through a story that's just as ridiculous as any other Japanese RPG. (Review, App Store: iPhone)
4.5 Stars

Babylonian Twins – Sixteen years in the making, Babylonian Twins delivers an amazingly challenging yet satisfying iPhone and iPad puzzle platformer. In many modern platformers, I've felt like I'm just mindlessly going through the motions to make it to the end of each level. Babylonian Twins, however, really keeps you enthralled throughout. (Review, App Store: iPhone, iPad)

Pocket Legends – This free online multiplayer game for both the iPhone and iPad that is a ton of fun and playing in a party with your friends is especially impressive while you're playing via 3G as the netcode does a great job in providing a lag-free experience. Additional content is available via in-game DLC, but you can really get a good feel for the game before you ever need to buy anything. (Review, App Store: iPhone, iPad)

Tony Hawk Pro Skater 2 – A surprisingly competent port of the classic skateboarding game. Everything is included from the original, and once you get used to the virtual controls, you'll be performing endless combos in no time in the many included skating locations.(Review, App Store:iPhone)
Espgaluda II – Bullet hell at its best on the iPhone. Even not being a huge fan of the genre, we fell quick and hard in love with Espgaluda II. It is the best 2D shooter experience in the App Store with great touch controls. Note: It will only run on the latest generation devices. (Review, App Store: iPhone 3GS, 3rd Gen iPod Touch, or pixel-doubled on iPad)
Honorable Mentions
There were several additional games this month that we felt we should highlight even though they didn't fall in the highest tiers.
Warpgate – A space conquest game with an amazing sense of scope. Warpgate has cool graphics, an interesting faction system to get involved in, and a dynamic in-game economy that can keep you busy for as long as you remain interested in the game. (Review, App Store: iPhone, iPad)
Geometry Wars iPad – A marvelous port of the XBOX Live Arcade game, it includes all the different game modes and has individual online leaderboards for each of them. The graphics are great, the music fits perfectly, and overall we just really want this game on our iPhones as the dual stick control method doesn't feel ideal for the iPad. (Review, App Store: iPad)
Sketch Nation – While the gameplay of the games created in Sketch Nation are generally just simple vertical shooters or other very basic games, the ability to draw and create your own game is one of the best uses of the iPhone camera we've seen. Even if you can't draw, you can still have a great time making a terrible game based on your own art that you photograph. (Review, App Store)
The rest of April game ratings can be seen in their respective rating categories (also found in the sidebar navigation): 5 Stars, 4.5 Stars, 4 Stars, 3.5 Stars, 3 Stars, and 2.5 Stars.
As always, we expect there will be some debate about relative scores, but keep in mind that everyone's personal ratings may vary based on individual tastes.