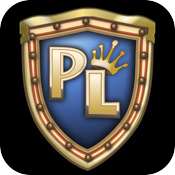 When Spacetime Studios first revealed their newest game earlier in the month I thought it was as ambitious a project as had been attempted on the platform. Not happy with putting out just any old Massively Multiplayer Online RPG, Spacetime Studios assumed the challenge of delivering it in 3D. And it is fortunate they did, as Pocket Legends [iPhone] and [iPad] has been a huge hit since its release a couple of weeks back.
Pocket Legends puts you in direct control of one of three classes; the warrior bear, the archer hawk or the elven enchantress/mage/healer. Diehard purists will maintain that Pocket Legends isn't technically an MMORPG, on account of its use of instances to tell the story instead of a massive, open world. In fact, there isn't much here that could be called a story either, merely a yarn spun to connect the action and game worlds together.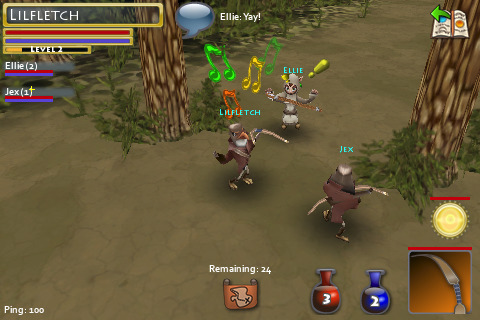 That may seem a criticism, but to its credit Pocket Legends does not take itself very seriously, telling its tale in a few short lines each chapter and darting comfortably between zombies, moronic knights, bling and beer. The models and animations are brought fluidly to life in 3D with a range of attack animation effects and clever emotes to boot. In fact, an array of great looking weapon and equipment models, from a spiked club to a claymore, often belies the fact that you are playing a handheld MMO.
The game's camera can be zoomed and rotated by on-screen swipes and gestures, and the characters are controlled via a virtual analogue stick. Enemies are targeted by either pressing the Attack button to target the nearest or physically tapping them on-screen. This system does take some getting used to, but it ultimately offers the best of both worlds and allowing easy target switching. Naturally, Pocket Legends features a complete loot and inventory system as well as a number of excellently thought out skills that are progressively unlocked. Curiously, the only area where the interface is lacking is active trading between players, a feature scheduled to arrive 'soon'.
Pocket Legends is free to download, but the game plays like a Lite with in-app purchase level packs. The free portion allows you to reach level 13 for free but then you need to buy additional level packs to continue earning experience points. The included Forest Haven Campaign is one of four currently available (with another on its way soon), and the only one able to be played freely. Each pack has a different objective, with the other 3 packs costing $1.99 each and offering a variety of increasingly challenging enemies to excel your character to the current maximum level of 25.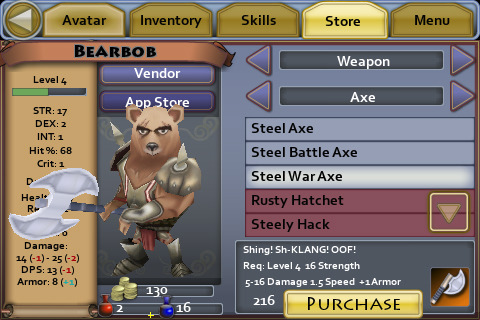 Other in-app items available for purchase through iTunes include:
An extra character slot beyond the default 2, available for $0.99;
A skill and attribute re-roll for $1.99;
2 emote books, each with 4 whacky emotes with special effects for $0.99 each;
Gold Purchases in bundles of 500, 2500 and 5000, ranging from $0.99 to $4.99; and
An assortment of class-specific items and item packs, the first pack which has been released for the archer for $1.99, and a solitary bow costing $0.99.

A minor criticism I had of the purchasable campaigns at release is that they seemed to largely recycle the textures in the first campaign. Fortunately, future level packs seem more varied, with snow and swamp themed add-ons nearing completion.

With regard to Pocket Legends' gameplay, it is wondrous that the iPhone can produce a comparable level of character progression and skill usage that traditionally only a PC game could evoke. From personal experience as a lowly Archer with only an auto-attack, I found myself only several hours later blasting at multiple targets with new friends, frantically stringing together sequences of buffs and debuffs in large-scaled boss-like encounters. In this respect, Pocket Legends is the type of game that can be rather monotonously if soloing, but as soon as other players are added, becomes a challenging, exciting, team-oriented affair that requires you to really look out for each other.

The instanced gameplay actually assists this whole process, as players are constantly joining your games almost as soon as they are created. This is thanks to the easy-to-identify game list that is presented to players as soon as they enter the game (though I did have slight difficulty getting people to join a DLC game). Furthermore, a detailed friends list keeps track of those players you have befriended in the past and informs you when they are online, allowing you to rejoin them if room permits.

For some, however, the demand of paid level packs every 5-10 levels may simply be too much. But for those willing, Pocket Legends is an extremely rewarding experience that has easily provided me with some of the best online gameplay on the iPhone to date. There are innumerable hours to pour into this game, with the current level cap of 25 requiring whole days of gameplay to reach. What's more, Spacetime Studios have already releasing two updates since launch which have added to both the existing free and paid content in the form of additional levels and items.

Reader impressions that have collected in our forums over the past few weeks have been largely positive. Pocket Legends plays on 2nd generation devices and up, and has a separate, High Definition iPad version available.

App Store Link: Pocket Legends (3D MMO), Pocket Legends for iPad (3D MMO), Free (With In-App Purchases).